My husband and I both share a love of nature and being outdoors. Traveling is one of our favorite ways to experience nature in new places. Being based in Wisconsin, we are fortunate to have many Midwest destinations within a few hours driving distance. We usually take one big trip each year to a National Park (or several) that we fly to, but we generally road trip for the majority of our travels. In the Travel Bug section of the blog, I'll highlight the must-see items from places we've traveled to – both urban and nature-focused.
We spent four days in Asheville, North Carolina this summer for our honeymoon. It was a surprise to our friends that it was our honeymoon because we eloped! Many people have asked us why we chose Asheville. We had a few things we knew that we wanted: a state where it was easy to get married, a place where we could go hiking, and a community with a wide variety of breweries. Asheville checked off all of our boxes.
We are looking forward to a return trip to Asheville in combination with a trip to Great Smoky Mountains National Park in neighboring Tennessee. That being said, a long weekend was ample time to get a taste of the area.
Here are five things you need to take advantage of if you're planning a trip to Asheville:
1. Enjoy the bounty of North Carolina's local foods! The growing season was notably farther ahead than ours was in Wisconsin. By the time we arrived in mid-June, I was able to purchase corn, tomatoes, and fresh stone fruits. We visited the Western North Carolina Farmers market, near our Airbnb, and were floored by the (what felt like miles) of fresh produce, plants and local goodies on the 36 acre site. The market is open seven days per week! The market is actually operated by the North Carolina Department of Agriculture and because of its size and number of vendors, they're able to provide pricing information and product availability online, and you have the ability to buy in bulk (great for restaurants who want to utilize local produce). There is a strong tendency toward eating farm-to-table in the Asheville area, and after visiting the farmers market I can certainly see why. We had a romantic dinner after our wedding ceremony at Chestnut, a restaurant strongly rooted in the tradition of eating local foods.
2. Take in the scenery with a hike along the Blue Ridge Parkway. The Blue Ridge Parkway is a scenic road managed by the National Park Service and is America's longest linear park – 469 miles long running through Virginia and North Carolina. The Parkway is free to drive and visit and offers countless pull-off points for photos, picnics, as well as hiking opportunities. We only traveled the section near Asheville (about one hour North of Asheville and 45 minutes South), but were completely charmed by the beauty of the Appalachian Mountains, the flowers in bloom and the pleasant hiking conditions (breezy, not too steep, well maintained trails). We hiked the Art Loeb Trail to Black Balsam Knob and Tennent Mountain and from the picnic area to the Graybeard Mountain overlook at Craggy Gardens. We also stopped at the Folk Art Center just outside of Asheville, which is home to the Southern Highlands Craft Guild. This shop and art gallery features stunning carved art, ceramics, fiber and glass art. It's lovely to see that such talented folk artists are still at work in Appalachia.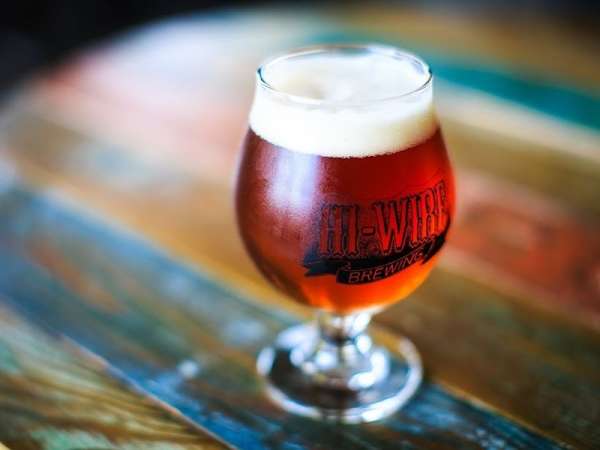 3. Sample all the local beers in the South Slope. Asheville has been crowned "Beer City USA" several times (I believe Portland currently holds the title) for most breweries per capita. Asheville alone has nearly three dozen breweries, including their fair share of local names and big-name breweries like New Belgium and Sierra Nevada. We managed to visit seven breweries in our time in Asheville and have many more to get back to on a future visit. My favorite brewery was Highland Brewing Company (the first modern craft brewery in Asheville!) and my favorite beer was the Hi-Wire Gose by Hi-Wire Brewing. Asheville has a neighborhood called South Slope that has about 10 breweries within one mile of each other, entirely walkable. We spent a fun evening brewery hopping and snacking before catching an Uber back to our Airbnb.
4. Leave the car parked and explore Downtown Asheville on-foot. Downtown Asheville is incredibly walkable and not all that large. There were so many funky shops, restaurants, rooftops and bars we wanted to come back and experience. We tried White Duck Taco Shop, French Broad Chocolates and One World Brewing in the downtown area. Our Airbnb was more secluded in the woods on the southern edge of the City, but I think for a future visit we'll try to stay in the heart of downtown.
5. Lastly, something we did not get to, but hope to get back to is The Biltmore Estate. This historic home is one of the largest private historic homes in the United States and has stunning gardens and grounds, as well as many dining options on the property. The Biltmore has become a destination for both tourists and a high end wedding and event venue. The admission is for an entire day and is a bit steep in price ($85 per person in peak season). Knowing that we had many other things we wanted to do on our first trip to Asheville, we decided to come back for a future visit and incorporate a trip to the Biltmore at that time.
If you're looking to plan a trip to Asheville, be sure to use the resources at Explore Asheville and follow them on social media. Happy travels!