This week for Food Focus, we're talking about a food that I have recently learned to love because (shocker!) I finally learned how to cook it properly! Tofu is something that I was first introduced to in college at the college salad bar – cold, raw, and completely bland. I was a vegetarian for the first three years of college and saw it as an easy way to add more plant-based protein to my diet, but I had no idea what I was missing out on by eating it uncooked and unseasoned.
Tofu is a plant-based protein made from condensed soymilk. The process of making it is similar to cheesemaking, so maybe it'll be easier to wrap your head around if you think of it as a cousin of cheese, made of soy products. Tofu has a wealth of health benefits, too, which we'll get into below.
The health benefits of tofu
It's a protein powerhouse, with 8 grams of protein in a 3.5 oz. serving.
It provides 31% of the RDV of manganese – which helps with the absorption of other nutrients and is an anti-inflammatory, among other benefits.
It provides a good amount of calcium (20% RDV) and iron (9% RDV), two nutrients that I often need more of as I follow a dairy free diet and don't eat red meat.
Tofu is nutrient-dense, offering the above benefits at only 70 calories per serving, which gives you plenty of leeway to add sauces, breading or cooking in oil to add richer flavor.
I had heard for years the risks of eating soy products for women and that they might be linked to breast cancer. I had one particularly insistent individual in my life that would not drop the issue that I was putting myself at serious risk, so I decided to talk to my doctor about it.
The potential issues with tofu (and soy-based foods)
Tofu has antinutrients – elements that block or reduce absorption of nutrients. These can often be greatly reduced through cooking, sprouting or fermentation.
Two antinutrients in tofu are trypsin inhibitors, which reduce digestion of protein, and phytates, which reduce the absorption of vitamins and minerals.
Soy products are high in isoflavones, a type of plant estrogen, which can have similar functions to human estrogen, but with a much weaker effect. These can cause weak estrogenic behavior or anti-estrogenic activity.
Whether or not soy isoflavones will impact you is largely up for debate based on certain factors, such as whether a medical study was conducted on humans or animals, ethnicity, your personal hormonal levels, and the type of soy you are consuming.
Also note the details of a study! One often cited study from 1995 is based on consuming 1.5 POUNDS of soy per day or drinking eight 8 oz. glasses of soy milk per day. That's obviously WAY more soy than the average person would consume in their diet.
It is unknown what its impact on breast cancer is, largely because of factors like your ethnicity, hormonal levels, types of soy you eat and how young you are when you begin eating soy products.
Overall, it's best to ingest whole soy foods, like soybeans, edamame, tofu and soy milk and not highly processed soy.
So what's the verdict?
You should always consult with your medical practitioner before drastically changing your diet or health regimen. I talked to my doctor, and here's what she shared with me:
The #1 killer of Americans is NOT breast cancer or thyroid issues that might be related to soy. It's heart disease.
My family does not have a history of breast cancer or thyroid issues, but it does have a history of heart health issues.
Red meat is higher in saturated fats and trans fats than chicken, fish and vegetable proteins. If you are replacing red meats in your diet with plant-based protein, you are making a heart healthy choice.
Knowing that, I eat soy based proteins 2 to 3 meals per week. Here are three of my favorite recipes that I prepare using tofu, and I look forward to sharing in another Food Focus post tips for cooking tofu and some more of my favorite recipes.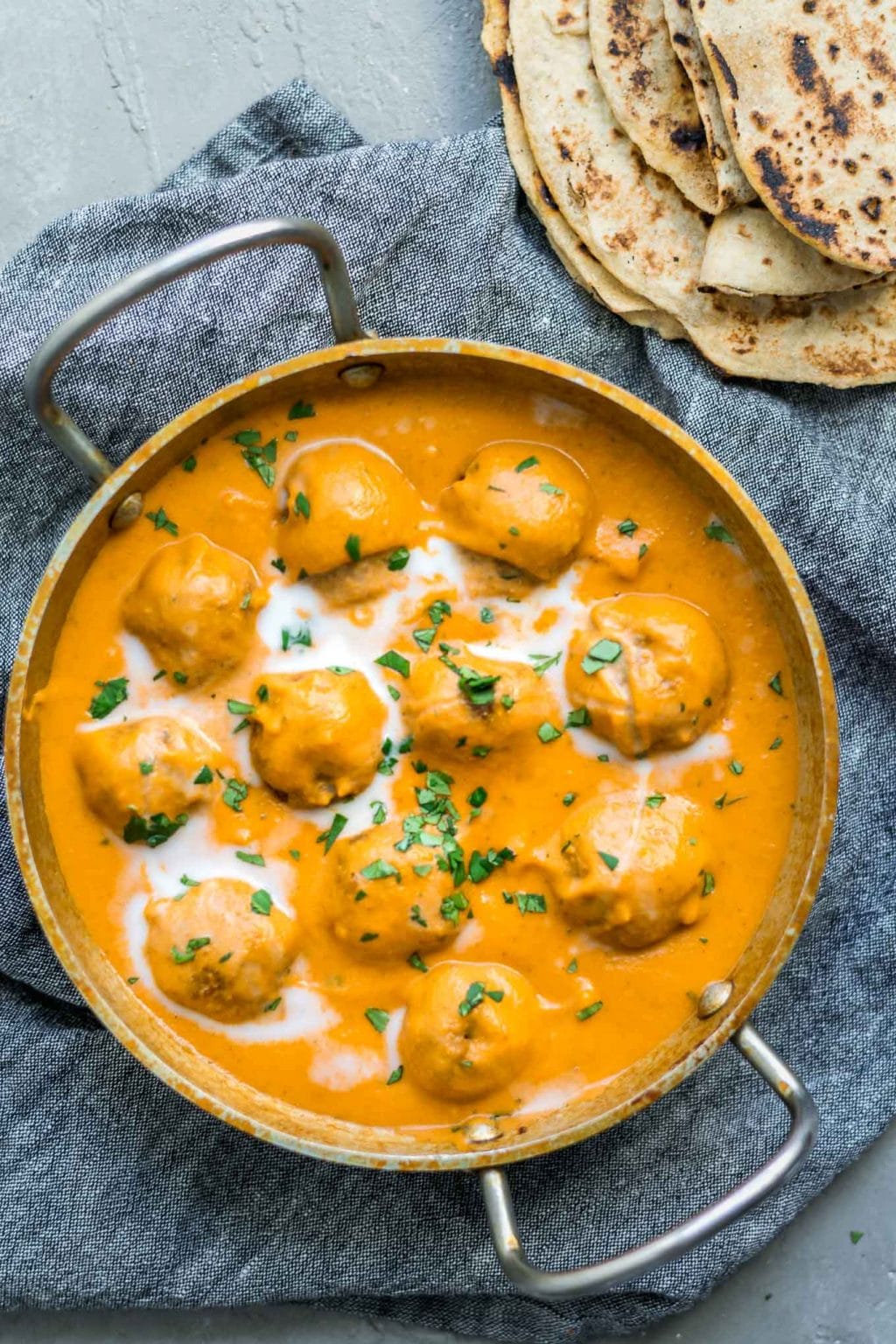 Vegan Malai Kofta – Indian Dumplings in Curry Tomato Cream Sauce from The Curious Chickpea: Kofta are meatballs, but in this recipe, they are fritters made from potato and tofu. The curry sauce is warm and has complexity in seasoning and naan is one of my go-to comfort foods. This recipe takes about 90 minutes to prepare. There are some specialty ingredients you may not have in your pantry for this recipe including: extra firm tofu (find in the organic section or in the produce department), garam masala (you may be able to find a small quantity in the bulk foods section), coconut milk (find in the ethnic section of most grocery stores), and fenugreek (listed in the recipe as kasoori methi) – again look for this in the bulk foods section. I want to note – this dish is NOT spicy! It is spiced, and well-seasoned with complex flavor, but don't fear that it will be too hot for the average eater.
Tofu Bahn Mi from My Darling Vegan: Bahn Mi is a Vietnamese sandwich traditionally made with pork or chicken and quick pickled vegetables like jalapeno, cucumber and carrot. Bahn Mi is one of my favorite quick dinners to whip up with fresh crusty French bread from the bakery. I've introduced several friends and family members to this recipe and they've really enjoyed it. This recipe only takes about 30 minutes to cook and prep (great for a weeknight dinner)! The only atypical ingredients in this recipe that you may not have in your pantry are: tofu, rice vinegar (find this in the ethnic section of your grocery store), sesame oil (this is a game changer – buy some in the oil aisle of your grocery store and use it for added flavor), hoisin sauce (really adds flavor, find in the ethnic section of your grocery store), and vegan mayonnaise. I have purchased vegan mayo and do like the Vegenaise brand, but it's calorie dense and expensive. I tend to use Miracle Whip, even though it isn't vegan.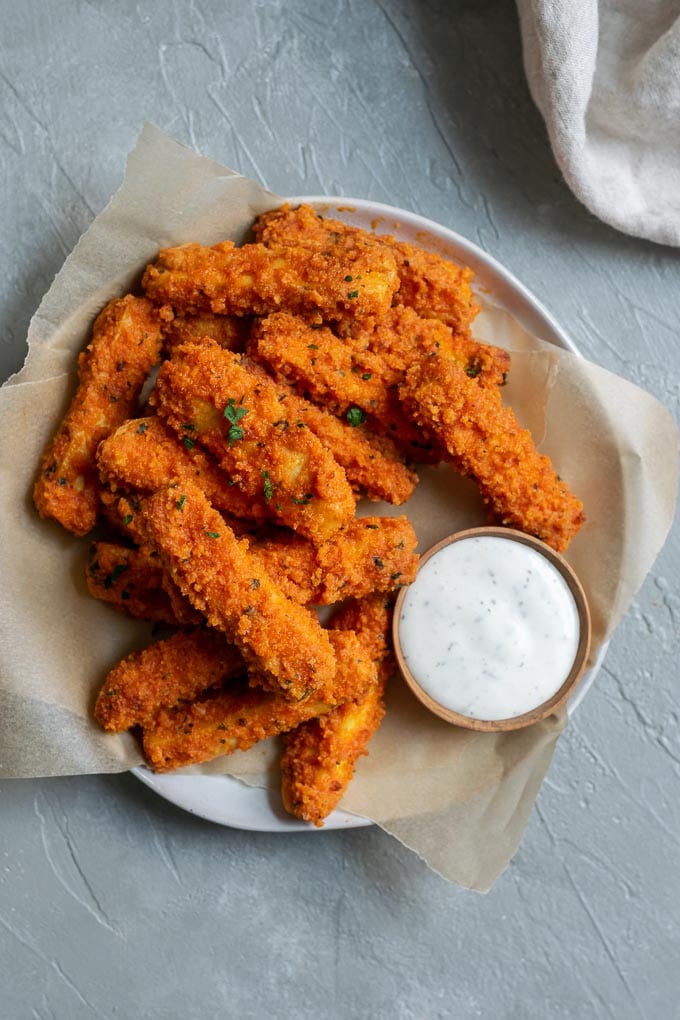 Crispy Baked Buffalo Tofu "Wings" from The Curious Chickpea: OMG, you guys. These are so yummy, and while not the healthiest way to eat tofu, it's great for when you're craving chicken wings or gameday type snacks. It is pretty hands-off, only about 15 minutes of prep time and 40 minutes of baking time in the oven. It doesn't have any atypical ingredients other than tofu. You can use plant-based milk and butter, or regular if that's what you typically eat. You can make this healthier by eating it on a salad as they do in this recipe. I did not eat it as a salad, as The Curious Chickpea did – I ate 1/2 of the entire recipe dipped in dairy free bleu cheese dressing and it was incredibly delicious. #NoRegrets.
I have a lot more tofu recipes that are household favorites, so I will plan on posting another Food Focus Tofu Part 2 in the near future. I hope you guys enjoy trying a new recipe with plant-based proteins!