My husband and I have made outdoor adventure a big part of our lives since we started dating six years ago. Over that timeframe, we've traveled to dozens of parks (local, state and National) across the Midwest and U.S. and have logged miles and miles on our hiking boots.
When I first started out hiking, I had no idea what I was doing, what I should be wearing or what I should be carrying with me. I've learned through trial and error what products have made a huge difference for my comfort while hiking and which products I should carry for safety purposes.
Clothing
What you should wear for hiking depends greatly on the length of your hike, the time of the day and the climate where you are hiking. I'm going to assume that most hikers are hiking seasonally (late spring to early autumn) in a temperate climate. The two key words to remember in hiking fashion (haha) are wicking and layers.
Wear clothing that is comfortable to move around in (not constricting on your body) and that wicks sweat away from your body as you inevitably burn calories while hiking. I like to hike in microfiber tees and tanks and in loose fitting shorts and pants made of a material that dries quickly. The Columbia shorts below are not the most stylish in the world, but they dry quickly and are super comfortable (I own three pairs). If you hike in a place where deer ticks are prevalent, consider hiking in loose fitting pants and be sure to wear higher socks.
I always carry a top layer, too – usually a microfiber long sleeve tee or a lightweight wind breaker. They make incredibly packable windbreakers that you can easily stuff in your backpack. I wear a slightly heavier duty coat that is a bit warmer as it is usually on the cooler side living in Wisconsin. You should pack clothing that would be appropriate to be outside overnight in, especially on longer hikes so that you don't put yourself at risk for facing the elements unprepared.
I would advocate that anyone who hikes more than a few miles and in areas with less than flat conditions or in spring or fall (wetter seasons) consider investing in a pair of hiking boots. You don't have to spend a lot of money on them and the ankle support and shock absorption makes a tremendous difference on longer hikes. You also don't have to worry about getting your sneakers filthy – my boots live in the garage and aren't even allowed in the house they get so muddy at times.
The pair of hiking boots I purchased three years ago are actually men's (they were $30 cheaper than the women's version) and they were around $50 on clearance. The style I purchased has been discontinued, but this version is quite similar. It's got excellent shock absorption, ties snugly on my feet, and is comfortable even after walking 12+ miles. You can get ones that have much more fashionable details if you'd like – my friend has a great pair of pink and gray boots that look great on her. My husband and I have both had great luck with Merrell Brand boots.
If you don't plan on hiking in less than flat conditions (no water hikes, rock scrambling, etc.) you can probably get by in a pair of broken in sneakers. I have accidentally turned my ankle hiking in sneakers, which is exactly why I advocate for the ankle support that boots offer.
The last essential piece of clothing you should wear is a pair of wool socks! Cotton does not wick moisture away from your body the way merino wool does, nor does it limit odor. Merino wool socks are thick enough to keep your feet from developing blisters in your boots, wick away moisture and keep you comfortable while you hike. I love Smartwool hiking socks. They're a bit pricier ($15+ per pair depending on where you buy them), but I own three pairs and they've lasted me three years. If you are susceptible to mosquitos, you can actually buy treated clothing that repels them. I always attract mosquito bites on my ankles, so my husband got me a pair of these L.L. Bean No Fly Zone socks a few years ago and I love them. The treatment is supposed to last for up to 100 washes.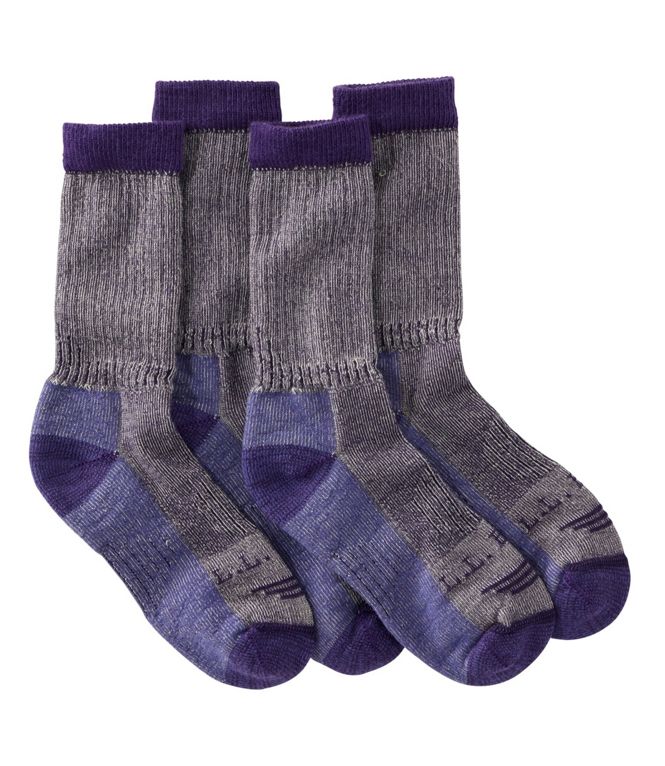 Accessories
Accessories, again, depend a lot on the length of your hike and the time of day and climate. I always wear a sun hat when hiking as I'm quite pale and always manage to get a sunburn. I have a straw UPF 50 hat that I've been using on hikes for years. It's not the most packable though. My husband uses a hat similar to this that has mesh panels on either side (breathability) and has UPF 50 protection, too.
We recently bought trekking poles (similar to the poles you use for skiing) and they make a tremendous difference for your knees and quadriceps when you are hiking steep switchbacks and experiencing large elevation changes. Trekking poles are completely optional and we haven't used them in years of hiking, but they were a relatively inexpensive investment and you only need one per person for hiking, so you can share a pair between a couple.
If you're hiking in cold weather, you might want additional accessories to offer warmth. I like using the Turtle Fur brand microfleece headband and neckwarmer, and I pair them with a microfleece vest. You'll want lighter weight layers that you can easily shed if the day gets warmer.
What about a hiking daypack to store all these items? I just invested in the Osprey Daylite pack this summer and I'm so happy with it! It features a chest and waist buckle which helps more evenly distribute the weight of your pack. The mesh panels in the back and straps are the real gamechangers though – I don't get sweaty carrying this pack because of the airflow this design provides. It's a warm welcome from my former backpack converted to a hiking pack I used to use.
Supplies
I always recommend that if you are hiking in an isolated area or going for a long hike that you carry a few supplies in case of an emergency.
First Aid Kit Basics:
Bandages, alcohol wipes, antiseptic ointment
Tweezers and a mini magnifying glass
Allergy medicine and anti-itch ointment
Medical tape and gauze bandages
I also carry Ibuprofen with me
Emergency Supplies: (These are more necessary for long or remote hikes)
Compass (unless your phone has one)
Whistle
Flint or firestarter
Utility knife
Bear spray (only if you are in an area where carrying bear spray is suggested)
A headlamp or flashlight
Absolute Essentials:
A map of the area where you are hiking
Plenty of water (1 liter per person!)
Salty snacks to help replace electrolytes as you hike
A bag for garbage (pack out what you pack in!) and wet wipes. If you need to go to the bathroom when hiking and don't have access to one, it's okay to go in the wild, but don't abandon your toilet paper in the wild. Leave no trace.
You should also let someone know of your itinerary (where you are planning to hike, when you plan to return). I read recently that you should always leave a copy of your itinerary in a visible location in your car if you park at a trailhead, too. This can help Park rangers or wardens locate you if they find your car at a trailhead parking lot after dark.
Items you don't need when hiking
Bulky additional clothing. The more you want to bring or wear, you may end having to carry. Dress wisely in clothing that is warm / cool to your climate as desired, but isn't bulky.
A giant camera or selfie stick. I do often carry my phone or camera with me while hiking, but having a smaller camera again, saves on bulk when hiking.
Pepper spray. I know women who hike with this for safety reasons, but my logic is that if I'm ever in a situation with a person or animal and I feel unsafe, I'm definitely not going to be coordinated enough to effectively spray pepper spray.
Bear bells. I learned while in Montana last summer that bear bells do not work. Make noise when you hike to alert wildlife to the fact that you are nearby, but bear bells are just annoying for everyone else on the trail with you.
Jeans. Everytime I see someone hiking in jeans, I just feel for them. Jeans constrict your movement and are not comfortable for long walks.
Cotton clothing. Remember the key of wearing clothing that wicks away moisture. You'll be much more comfortable in a synthetic material that keeps you dry.
Happy hiking!