I'm a complete cooking geek and my favorite place to be in the apartment is in the kitchen. I am always intrigued when I read an article about a must-have piece of equipment or when I see America's Test Kitchen do equipment reviews. One of the benefits of having a small, galley style kitchen in our apartment has been really weighing how much we use a gadget and if we can justify storing it. I don't know that I'd be as selective if we had more storage space. Today I'll share kitchen gadgets that didn't make the cut for me and the ones I don't know how I lived without.
Also – you can check out my Amazon Ideas List for links to some of the kitchen gadgets I use and swear by. (I do not make any commission by you following this link or purchasing any of these items, I just want to share my favorites with you!)
Gadgets Not Worth the Hype
Coffee Grinder. This was not an expensive kitchen gadget, nor is it particularly bulky (so I still have it crammed in my cabinet with my mugs and teabags). I used to diligently grind the amount of coffee I needed for the coffee pot each night before setting the timer and going to sleep. My coffee drinking has declined a great deal since those days, but even when I do make coffee – I tend to just buy it ground or have it ground at the coffee shop. I can't taste the difference between fresh ground and pre-ground and I'm just not interested in taking that one extra step. The last few times I've used my coffee grinder have been to grind up nuts for a recipe – not even for coffee.
Fruit-Specific Cutters or Corers. I've gotten rid of several fruit-specific corers and slicers in the last few years. Maybe if you cut up a tremendous amount of fruit you can use an apple corer or pineapple corer, but I just cut my fruit with a knife. I got an apple corer for Christmas once and it never was assembled or left the cabinet until it was headed to Goodwill.
Pizza Ovens. I'd apparently lived a very sheltered life until I met my husband because I had no idea that the general public owned specific devices like pizza ovens to reheat frozen pizzas. Frozen pizzas are really, really big in Wisconsin for a few reasons. #1. Many frozen pizza companies you know and eat use Wisconsin cheese and are assembled in Wisconsin (milk is one of the heaviest ingredients in the supply chain to transport). #2. (Personal theory from a New Yorker here) There are not very many quality pizzerias (mostly chains), so people opt for frozen pizza at a better price point. But I digress. We owned a pizza oven for several years which took up almost an entire cabinet. It is great for heating pizza, open faced sandwiches and things that you'd like to toast at a high temperature. But then we got a pizza stone and it lives in the oven and the rest is history. I featured the pizza stone we use in the Worth the Hype list.
Mortar and Pestle. I thought it would be so cool to have a mortar and pestle and asked Jon for one for a gift. He got me a beautiful marble mortar and pestle for Valentine's Day several years ago and it's gorgeous, but I don't use it. I do mix my own spice mixes, but I rarely use ingredients like whole peppercorns that I need to crush. I am not getting rid of it and will continue storing it and hope to someday have more counter space because it's really pretty.
Garlic Press. I use a lot of garlic in my cooking and have tried using the jarred minced garlic, but the flavor just isn't as good as freshly minced garlic. I tried to get on board with garlic presses because they're supposed to offer that lovely benefit of evenly diced garlic and crushed garlic, but they're so messy. I smash my garlic with the side of a knife under the weight of my hand and dice by hand – even if it is sticky and challenging to evenly dice.
Worth the Hype
Pizza Stone. We bought a pizza stone earlier this year because we swore off frozen pizzas (so much sodium) and started making our own pizza from scratch. Fresh dough in a standard pizza oven is a sticky (and sometimes smoky) mess. Fresh dough on a pizza stone is crusty, delicious and not messy. I always thought that pizza stones would be more expensive, but the one we bought was under $20 on Amazon. I would like to get a larger one with handles down the road as this is a bit small, but it perfectly gets the job done in the meantime. The only things to keep in mind with a ceramic pizza stone are to not heat or cool them drastically – leave them in the oven to preheat and to cool down. We slide our pizza off of the stone and put the stone right back in the oven. We also don't wash our pizza stone (okay, kind of gross, I admit). We cook at such high temperatures that we scrape off any burned bits and any sauce or cheese remnants that stay on the stone inevitably burn off. It lives in our oven on the bottom rack 99% of the time, so it doesn't take up any cabinet space!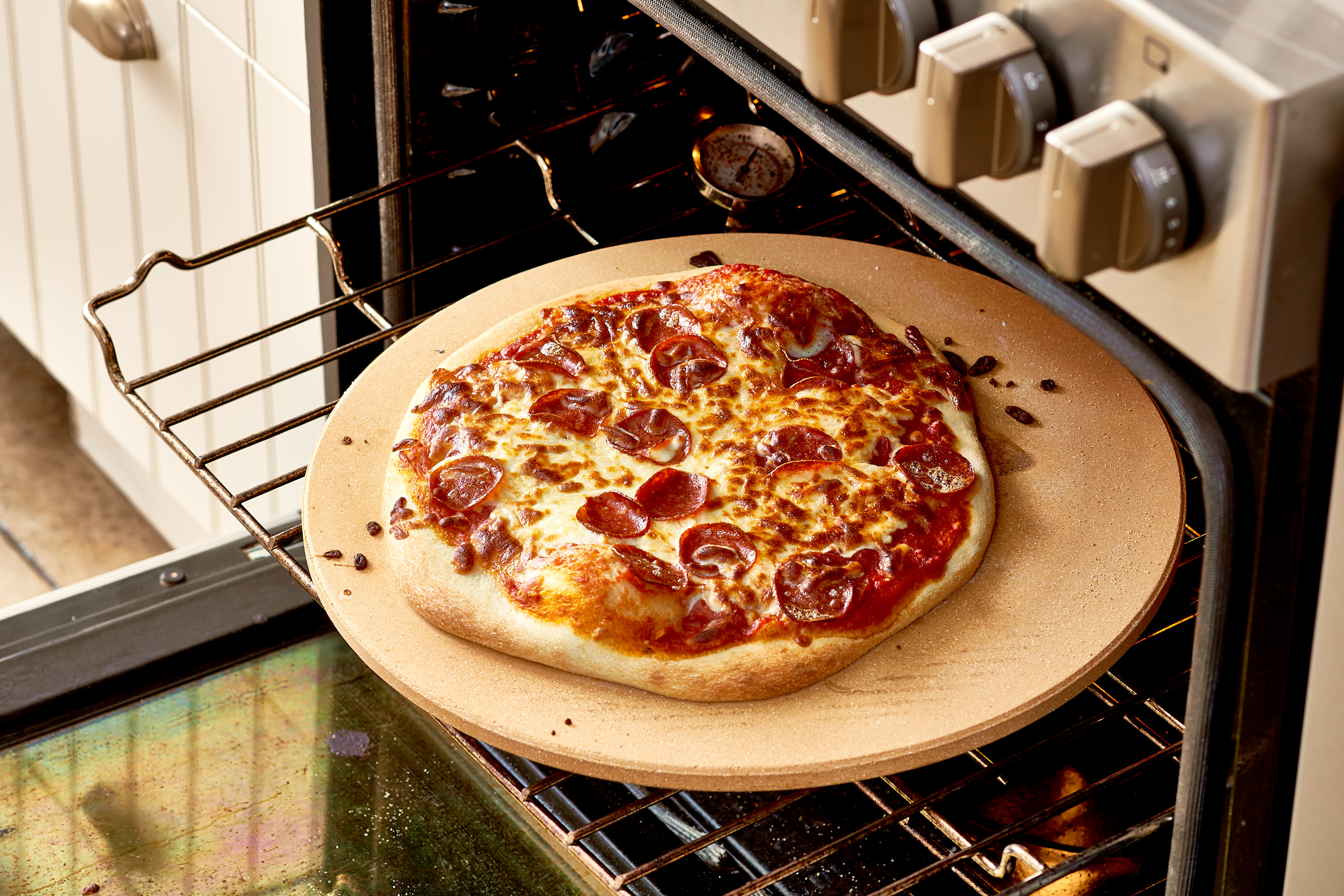 A Quality Carving Knife. I asked for knives last Christmas and we began researching whether you need a full knife block or if just certain knives are worth investing in. We read from America's Test Kitchen that if your kitchen has a high quality carving knife, paring knife and serrated knife, you're probably set. Holy cow, were they right. I honestly only use three knives now and may as well throw out the rest. I love our 10″ Chef's knife from Victorinox. It was about $50, but I use it nearly everytime I cook. We also got a $25 10″ serrated knife and a $50 Wutshof paring knife. Since our knives are all a la carte, I plan on getting a magnetic knife bar when we are settled into a bigger kitchen.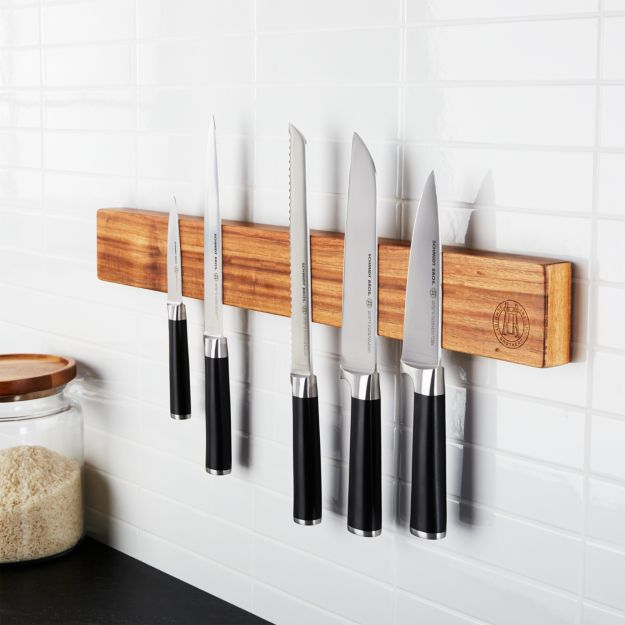 Food Processor. I asked for a food processor for Christmas (Man, I'm really predictable around the holidays, huh?) about five years ago so I could try making hummus. (I'm also really into making from scratch things that you can buy for under $5.00 at the grocery store). I did use it to make hummus, but I had NO clue how many vegetables I would shred using my food processor. I love shredding carrots, zucchini, celery, beets and potatoes in it. I also make pesto in it and make my own breadcrumbs using it. It is a bit bulky to store, but I think that its use justifies the space it takes. I also love that i can run all of the components through the dishwasher on the top shelf.
Microplane. This was, not surprisingly, another Christmas gift I received. I use my microplane ALL. THE. TIME. I love the taste that fresh citrus zest adds to dishes, so I'm constantly zesting limes, oranges and lemons with it. Occasionally I will use it to zest fresh ginger, and while I never have – you can also use it for chocolate and even hard cheeses. I think it's safer than using the side of a box grater (save those fingers!) and it's dishwasher safe. Microplanes have a guard on the opposite side of the blade that keeps the zest neatly contained. When I've zested on the side of a box grater, I have a horrible time trying to collect the zest afterward. This is significantly neater.
A Well-Seasoned Cast Iron Skillet. I wrote a whole post about how much I love cooking in my cast iron skillets, but I will again reiterate that these pans get better with use and will change the way you cook. The excellent non-stick quality, the searing capabilities and the ability to go from stovetop to oven all make this a no brainer for your kitchen.
What are your favorite go-to kitchen tools and gadgets? What are the ones buried in the back of your drawer or pantry?