I love when fall comes around for many reasons, one of which is the short window of cranberry harvesting! I just had a cranberry scone with my coffee this morning and it's one of those fruits that immediately makes me think of fall and Thanksgiving. My favorite cranberry treat was always Starbucks' cranberry bliss bars, but those were tragically discontinued. You can still find plenty of copycat recipes online to recreate at home.
Not only do I love cranberries as a food item, the fruit is a colorful part of the food history of two states where I've spent a large chunk of my life – New Jersey and Wisconsin. I spent the first eight years of my childhood in New Jersey and returned to attend Rider University in the state for my undergraduate degree. The namesake of Rider University, Andrew Rider, first president of the Trenton College of Business, was known as "the Cranberry King of New Jersey" for his ownership of more than 500 acres of cranberry bogs in New Jersey and his extensive promotion of the fruit. The university's colors today are cranberry and white and at the time I attended Rider, they had an on-campus restaurant called Cranberries. I remember that the cafeteria sometimes had desserts with cranberries in them – it was a fun play on our founder's past.
Now having lived in Wisconsin for the past 8 years, Central Wisconsin's sandy and acidic soils are perfect for cranberry bogs and the state is the top producer of cranberries in the United States. I was so surprised to learn that as I always associated Ocean Spray (leading purveyor of cranberry products) with the thick New England accents in their commercials and assumed that Massachusetts led national production. Wisconsin produces more than 2x as many cranberries by barrel as Massachusetts!
I had the chance to witness a cranberry harvest at Glacial Lake Cranberries in Wisconsin Rapids a few years ago and it was one of the coolest things I've seen! I was really surprised to learn a few facts about cranberries during the harvest process and wanted to share a little more insight into this short-season little fruit.
Cranberries don't actually grow in water. I always assumed from the famous pictures of red berries floating in bogs that cranberries grew in watery ponds. They actually grow on vines in sandy dry bogs, which are flooded for harvesting. See below a picture of a dry bog. Cranberries were a native plant (since domesticated for cultivation) and are protected through winter (and new growth is spurred) by being covered with sand. In spring, they revive from dormancy, flower and then grow berries. Cranberries are perennial, so they can be maintained and protected for years of regrowth. The berries are ready for harvest in late September to mid October, dependent on weather.
The original name for the fruit was the CRANEberry. The original name for cranberry was CRANEberry – as the flowers resemble the neck, head and bill of a crane. This name derived from a German translation of the same meaning, but was reduced to cranberry colloquially over time.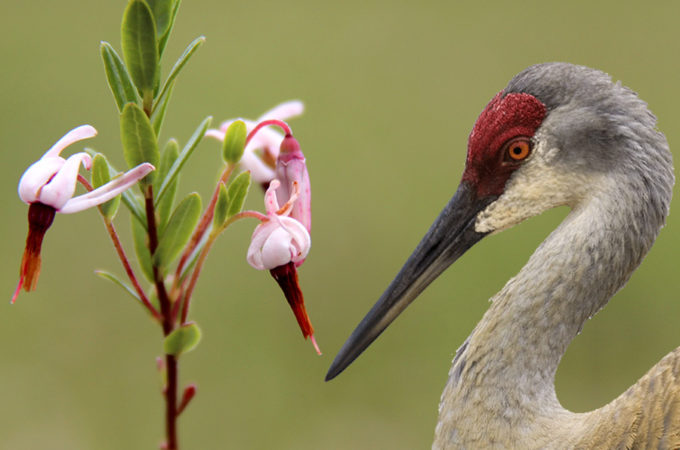 Cranberries have one of the highest levels of antioxidants of all fruits. Cranberries have extremely high levels of antioxidants, as well as Vitamins C, A and K. They are known for their role in preventing urinary tract infections (but will not treat them) and can help reduce blood pressure.
Most Americans only eat them during the holidays. As a traditional part of American Thanksgiving (they were shared with the Pilgrims by indigenous people at the first Thanksgiving), cranberries still appear on many American's tables in late November. 400 million pounds of cranberries are consumed nationally by Americans, but 1 out of 5 pounds of cranberries are consumed during the week of Thanksgiving.
Almost all cranberries are consumed in a processed form. Only 5% of cranberries cultivated in the United States are purchased fresh – the other 95% are processed into other forms, such as juices, juice blends, canned, or dried. The majority of U.S.-produced cranberries are turned into juices and juice blends.
Cranberry bogs are flooded for harvesting of the fruit. Rather than engaging in the back breaking work of picking berries individually, specialized tractors that can drive through water rake the berries off of the vines, and once bogs are flooded through irrigation channels, the berries float to the top. This is why in pictures of bogs you see what looks like a sea of floating red berries. They do float and are in water, but only at the time of harvest. Berries are harnessed in and then pumped into truck beds where they are shipped off for processing.
Not only is cranberry production big business in Wisconsin, we are fortunate to be able to buy a large number of cranberry products made right here in the state. There are also plenty of opportunities to celebrate Wisconsin's state fruit, too! See a list of cranberry-themed festivals that take place each year in Wisconsin.