I love listening to podcasts on my commute, while I clean up around the apartment and while I work out (it's a great way to make slogging along on a treadmill less miserable). I have my regular menu of podcasts I listen to daily or weekly, but I'm always interested to find new series or topical podcasts to mix in. It's funny because I've never enjoyed listening to audio books, but there's something about how I can drift in and out of some podcasts more easily without missing the whole point of the episode than I can with an audio book.
I detail today some of my favorite podcasts I've been listening to lately.
Office Ladies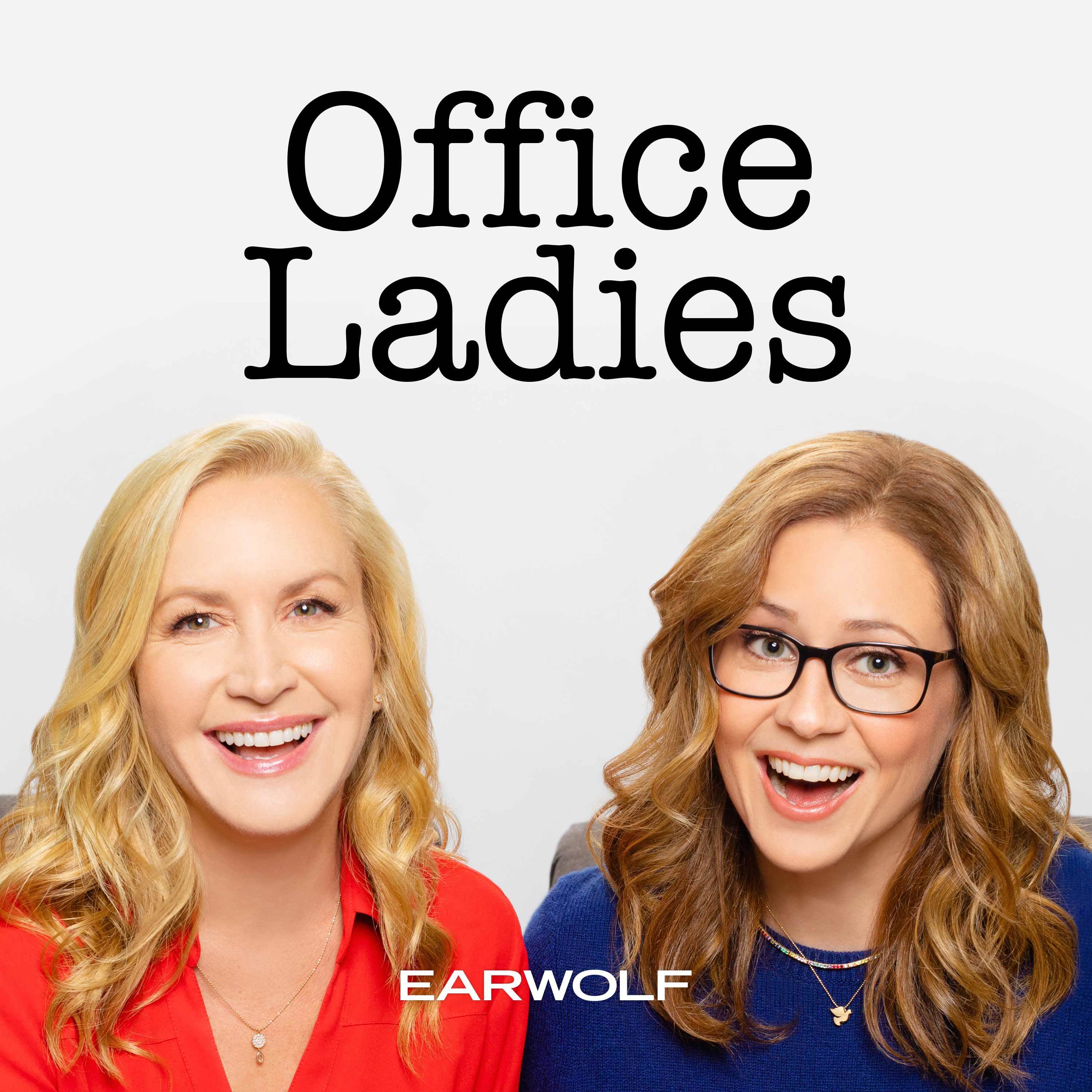 This re-watch podcast is like a recap show for a show that finished airing seven years ago. Hosted by Angela Kinsey (Angela) and Jenna Fischer (Pam), the two intend to recap all 201 episodes of the show over (I guess) the next four years? That seems like an ambitious commitment, maybe they'll rewatch all of Season 1 and then fan favorite episodes from later seasons. The rewatch offers Angela and Jenna's insights into cast friendships and off screen moments as well as trivia from the show. I LOVED The Office in college and while I fell out of watching it after the writer's strike, I rewatched all 201 episodes in 2017 and fell back in love with it all over again. The podcast only has a few episodes out at this time but has over 25,000 ratings on the iTunes store, so you know that The Office clearly still has a lot of diehard fans out there. Fresh episodes drop on Tuesdays.
Listen to Office Ladies on Earwolf here or on their website here or wherever you get your podcasts.
Chatty Broads
I originally started listening to this podcast because one of the hosts (Bekah Martinez) is a former Bachelor contestant and general badass who I LOVED watching on TV. Her friend and co-host is not from reality television, but these two girls have developed an outstanding podcast that deep dives into a wide range of issues and bring unique perspectives onto the show. I should note, they do Bachelor franchise recaps for one episode per week (out of their two that they release weekly) during the season (pretty much January – August), but you can always skip those if you aren't interested in those shows. The show dives deep into topics like religion, sexuality, trauma, dreams, the paranormal, dating, you name it. The episodes either make you burst out laughing with their back and forth or really challenge the way you think about a certain topic. Fresh episodes drop on Tuesdays and Thursdays – during Bachelor in Paradise season (August) they drop on Tuesdays and Wednesdays.
Listen to Chatty Broads here or wherever you get your podcasts .
The Takeout
Hosted by Major Garrett, CBS News Chief White House correspondent, this weekly podcast interviews politicians, policy folks and pop culture figures over a meal and talk through the details of what they do, their perspective on relevant issues of the day and just generally engage in delightful back and forth. This interview style is intentional in that it is over a meal – encouraging a friendly and educational conversation that never feels strained, forced or interrogative (unlike most of what we see on the news). The podcast never edits out guest responses, so guests truly get a chance to share their piece. I appreciate this podcast greatly because it has educated me on the details of what go into highly specific federal government adjacent related positions and on the backgrounds of how so many people who we recognize from the Capitol got to be there. Fresh episodes drop on Fridays, and the mini follow up episode (Takeout Outtake Especial) features a fun and game Q&A section with guests which drops on Tuesdays with the prior week's guest.
Listen to the Takeout Podcast here or wherever you get your podcasts .
Camp Monsters
I desperately wish I had discovered this podcast BEFORE Halloween because the content is totally perfect for October but alas, I did not, but you can just extend the spook into the Christmas chaos that has already descended upon us, I suppose. This delightful storytelling style podcast features legends of monsters from around the United States like the Jersey Devil (which I'd heard of having grown up in NJ, of course), as well as other ones I'd NOT heard of like the Ozark Howler, Loveland Frogman among others. This eight episode mini series offers a just creepy enough soft voiced story telling experience that helps you imagine you're gathered around a campfire, unsure of what lurks in the forest beyond you. It not only tells you the spooky legends, it also dives into the history of the legends and the region and how these stories have carried on for so long. While the series has wrapped for 2019, there will be more episodes returning in 2020!
Listen to Camp Monsters here or wherever you get your podcasts.
Dolly Parton's America
This podcast is one you've probably already heard the hype about since it's on the top 10 of the Apple podcast charts (right behind Office Ladies, actually) and because it's affiliated with Radiolab, another super popular podcast. (Sorry, I'm probably one of the few humans on the planet who isn't super into Radiolab, the sound effects really bother me and detract from the storylines)! I just stumbled upon Dolly Parton's America a few weeks ago and fell in love with it after the first three episodes. The mini series tells the story of Dolly Parton's musical career and her impact across generations, backgrounds and the world through her singing / songwriting / style and messages. I knew very little about Dolly Parton until earlier this year when I saw Dumplin' on Netflix (which you should go watch immediately, especially if you want to detox by crying for a straight 90 minutes). That movie, largely centered on the influence that Dolly Parton played on a young girl's life and featuring her music inspired me to start listening more. We also traveled to Appalachia earlier this year where Dolly Parton has an outsized influence and philanthropic impact. All in all, these experiences piqued my interest and I immediately wanted to learn more of her story through this podcast. This mini series (9 episodes) has 4 episodes released at this point, but fresh episodes will continue to drop on Tuesdays.
Listen to Dolly Parton's America here or wherever you find your podcasts.
Derailed
This miniseries recently launched by Wisconsin Public Radio details the saga of high speed rail that was supposed to – but didn't – come to Wisconsin in the last ten years. (This podcast is probably more of interest to Midwest readers and train enthusiasts!) This all started and ended just before I moved to Wisconsin in late 2011, but it is a topic that is still a major source of complaining / finger pointing and could've / should've / would've-ing over whether or not high speed rail would have bankrupted the state or led to better talent attraction efforts. In a nutshell, Wisconsin was in the process of pursuing and had received funding for nearly every penny of a shovel-ready high speed rail project to update infrastructure connecting Milwaukee to Chicago and to add a connection from Madison to Milwaukee. The long range plan was full high speed connectivity between Minneapolis (connections exist but are not high speed), Milwaukee and Chicago. The project became a political point of contention and was nixed in full when Governor Scott Walker took office in 2011. Having not lived here during the event, but still hearing about this debacle, it's fascinating hearing the retelling of why we do not have this shovel ready project in place today.
Listen to the Derailed podcast here or wherever you get your podcasts.