One of our goals when we started to eat more mindfully to meet our health goals was to follow some of the tenets of the Mediterranean Diet. The Mediterranean Diet champions healthy fats (nuts, seed oils), fruits and vegetables and limited red meat. The diet also champions eating fish to gain healthy Omega 3s (which benefit heart health). Up until this point, I knew about three fish recipes, didn't really love any of them, and was terribly intimidated by preparing most forms of seafood.
Today on this food focus feature, I highlight some great introductory recipes that I've used and love for preparing fish that are flavorful and somewhat foolproof. I highlight two salmon recipes and one swordfish recipe. We wrap up with categories of fish flavor – I challenge you to try a new type of fish even if you "don't like fishy flavors".
Recipes and Techniques for Preparing Fish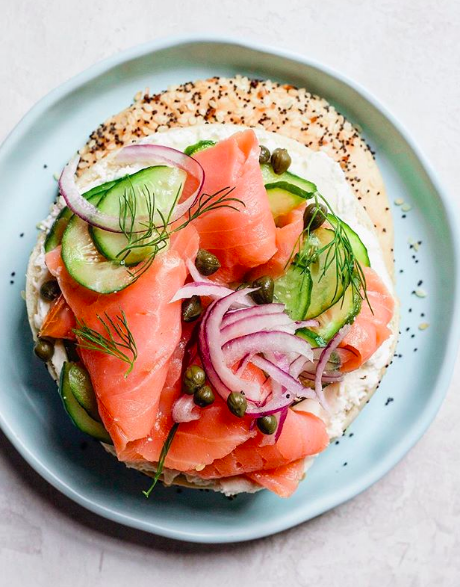 No-Cook Smoked Salmon Bagels: If you are REALLY nervous about whether you enjoy fish or how to incorporate it into your diet, one way is to incorporate an already cooked version. You can buy smoked salmon in the seafood department at most grocery stores. One of my favorite ways to use it is at breakfast time. I use a dairy free cream cheese alternative (my favorite is Tofutti Better than Cream Cheese), whole wheat Bagel Thins (much lower in calories), thin slices of cucumber or zucchini and shreds of smoked salmon on top. This breakfast keeps me full longer because of the protein and is a nice savory alternative to my usual staples of oatmeal and smoothies.
Ingredients needed: bagels or lower calorie Bagel Thins, cream cheese or a dairy-free alternative, slices of cucumber or zucchini, smoked salmon.
Steps to prepare: toast your bagel, spread with 1 T of cream cheese or alternative, stack slices of cucumber or zucchini on bagel, top with smoked salmon.
One note: if you don't like lox (brined salmon) and are apprehensive about this recipe, still try it! I do not like lox (I find it to be slimy), but I really enjoy this recipe because the fish is drier.
Sheet Pan Sun-dried Tomato Pesto Salmon from Haute and Healthy Living: Sheet pan recipes are another great way to begin preparing fish as it is less likely to fall apart on you, particularly with thinner fillets. Try to use fish the same day you buy it if raw, no more than one day after buying it. A few other pointers: make sure that your fillets of fish are close to the same thickness so that they cook evenly. Also be sure to let your fish thaw a bit before cooking (remove from the fridge 20 minutes or so before cooking) and dab dry with a paper towel.
This recipe calls for using salmon fillets, which you can purchase at the fresh seafood counter at most grocers year round. If your grocer carries wild caught salmon, always be sure to purchase that! Wild caught fish is higher in Omega 3s (great for heart health) than farmed fish because of its wild diet. Specify the quantity you need in pounds and you can even ask them to cut the fillets down to size for you. Don't feel bad asking! Often times, if you share how you are preparing fish, the people in the meat department may suggest a certain cut.
This recipe provides the details on how to prepare your own sun dried tomato pesto, but I'm going to tell you that if you want this to be a quick and foolproof meal, you can buy sun-dried tomato pesto in the same aisle as the pasta. This pesto adds a rich, pasta sauce like flavor to the fish. Because you top the fish with the pesto, use a cooking thermometer to verify that the fish is cooked all the way through as it may be tougher to tell if the fish is done (by whether it flakes or not). Fish should be cooked to an internal temperature of 165 degrees F.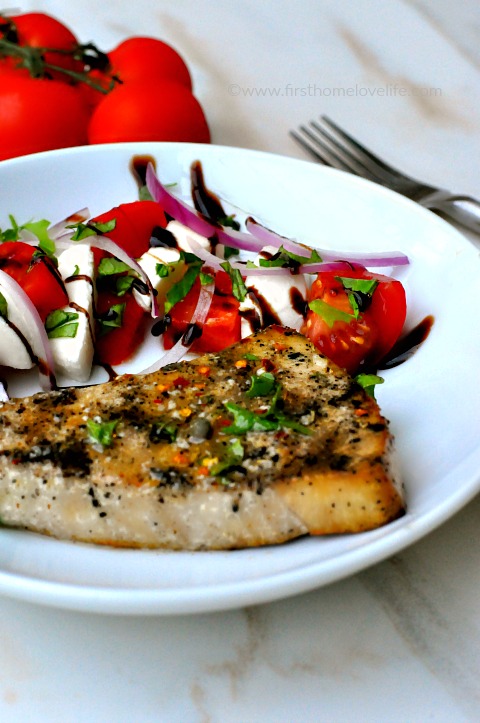 Grilled Sicilian Style Swordfish from First Home Love Life: Since discovering how foolproof grilling fish steaks is, it's become a fast favorite in our household. I wait until swordfish steaks go on sale at our favorite grocer and go wild with purchasing and freezing steaks. This recipe is one of our household favorites. The flavors really seal in during the last few minutes of cooking in tin foil.
Some pointers for grilling fish, use a paper towel (folded into a small 2″ wide rectangle), dip it into an oil with a high smoke point (avocado oil or olive oil) and by holding the paper towel with tongs, rub the grates of your heated grill before you put fish onto the grill.
Fish grills QUICKLY! This recipe typically only requires about 8 minutes of grill time for us on our small Weber charcoal grill. Use a meat thermometer to measure temperature in the fattest part of the steak and cook until an internal temperature of 165 degrees F. has been reached.
Finding the Right Fish for You
One phrase I often hear when talking to people about preparing fish is that they don't like "fish that tastes fishy". Now first thing, don't ever prepare fish that smells bad – this means it has turned! However, some types of fish do have a stronger flavor profile when prepared.
Full flavored fish: Salmon, trout, tuna (both canned and fresh) and sea bass are examples of fish that have a full, rich flavor. These are often described as tasting distinctively "fishy". Other canned fish like herring and sardines fall into this category, too.
Medium flavored fish: Bass, pike and mackerel have a more medium flavor profile. These are not quite as intense in flavor as the fish above.
Mild flavored fish: Cod, pollock, sunfish (bluegill) are even more mild than the flavor categories above
Mild to sweet flavored fish: Catfish, grouper, halibut, swordfish, tilapia and perch are examples of milder to even sweet flavored fish. My husband doesn't like strong flavored fish, so we most often eat fish from the mild and mild to sweet categories.
The Minnesota Department of Health has a great website chooseyourfish.org that provides insights and more information on preparing fish, selecting fish and even lets you sort types of fish by flavor, texture and mercury levels. Check it out!