As I've mentioned in prior posts, I'm not the biggest Christmas fan in the world because of how much stress it entails for me. That being said, I do exchange gifts and I do try to buy things for the people I care about that are meaningful, functional and kind to the planet. If you are seeking some gifts that fit into some of these themes as well, I've compiled a few gift themes I have for this year that are thoughtful and eco-conscious!
A Gift that is Gently Used
You can find a LOT of good gifts secondhand. Ranging from books to clothing to home decor, in fact, there are plenty of good gifts to be found that can be detoured from ending up in a landfill. Now I'm sure if you don't often thrift you're probably envisioning me giving my friends plastic electric tea kettles and crocheted tissue box covers. I promise you this is not the case. I went to a vintage market last month and was stunned by how cute the home decor pieces were!
I'm planning on looking for some dressy outfits that are from nicer brands for my nieces and nephews this holiday season on ThredUp. ThredUp does such a nice job of cleaning/folding/making sure the presentation on used items is still excellent and you can even set filters to buy items that are brand new with tags on them! They just released for this holiday season a new offering: ThredUP gift cards!
I'm planning on gifting to my colleagues in my work book club one of my favorite books about workplace culture – Orbiting the Giant Hairball – but buying used copies instead of buying all new copies. You can buy used books on Amazon or on eBay. (Remember when Amazon was only an online book store?)
Some ideas of gently used gifts that a friend might like:
Gently used clothing or accessories
Used books
Used glassware (I've gotten some gorgeous wine glass sets at thrift stores!)
Upcycled artwork or home decor made from repurposed pieces
A Gift From a Certified B Corporation
What the heck is a B Corporation? B Corporation are companies that maintain this certification through their practices. They exceed industry standards in categories like their sustainability efforts, as well as practices in transparency, and social practices. Learn more about it here. You can use their directory to search for B Corporation companies, even as local as within your own state! Some big name companies you probably recognize include Toms (shoes, eyewear), Bombas (socks), Athleta (clothing), Allbirds (shoes), Patagonia (clothing), but this is just a tiny selection of a huge number of companies.
One company I started using last year that I loooooooove (emphasis needed) is Allbirds! They make the most comfortable shoes I've ever worn using natural materials and have a carbon neutral supply process. They don't do coupons or sales or discounts because they firmly believe that their price is fair and ties directly into the integrity of the manufacturing process / climate impact. That totally goes against the grain of our sales, sales, sales culture that takes hold in November/December, but it is important. I own two pairs and don't really need a third, but I'm planning to get my husband his first pair this Christmas.
Some ideas of Certified B Corporation gifts a friend might like:
B Corporation certified apparel or shoes
B Corporation certified jewelry
B Corporation certified treats like coffee, chocolate, etc.
B Corporation certified makeup, facial care or self care items
A Gift You'll Use For a Long, Long Time
One of the worst environmental factors surrounding holiday gift giving is how disposable everything seems to be. Things are cheaply made and the low price points further reinforce that they are not meant to last. When you give a gift that is high quality and is something functional, you're much more likely to hold onto it, take good care of it and continue using it for a long period of time.
One long term investment gift I'm excited about is starting to build an East Fork dinnerware collection. When we went out for dinner after our wedding in Asheville, we ate a farm to table restaurant called Chestnut that has the most beautiful dinnerware. We asked about the plates and were told that they were made by a local Asheville pottery company, East Fork. For Christmas this year, I started us out with some starter pieces for our own East Fork dinnerware collection. The pieces are higher than a set you'd buy in a department store or on Amazon, but they're handmade and have this special emotional connection to our wedding. I see this as a gift I can slowly add on to over time over holidays, birthdays, etc.
Some examples of long use gifts a friend might like:
Dinnerware
High quality throw blankets
Outdoor items like high quality jackets or specific outdoor gear
A Gift Made by a Local Artisan
Gifts that are made and purchased locally (rather than having to be shipped from abroad and transported around the United States to you) have a lesser impact because of the significantly shorter supply chain and logistics involved in getting it delivered to you. Did you know that you can narrow down shops by their location on Etsy? I can, for example, search only for shops that are located in Wisconsin – knowing that I'm supporting an in-state artisan and that whatever product I order is not traveling far to get to me.
The holidays are often a time for local art and craft shows, too – you can buy a gift in person directly from an artisan rather than hunting online. I did a quick search of kitchen signs on Etsy that are made by Wisconsin artists and I'm totally obsessed with this one that came up!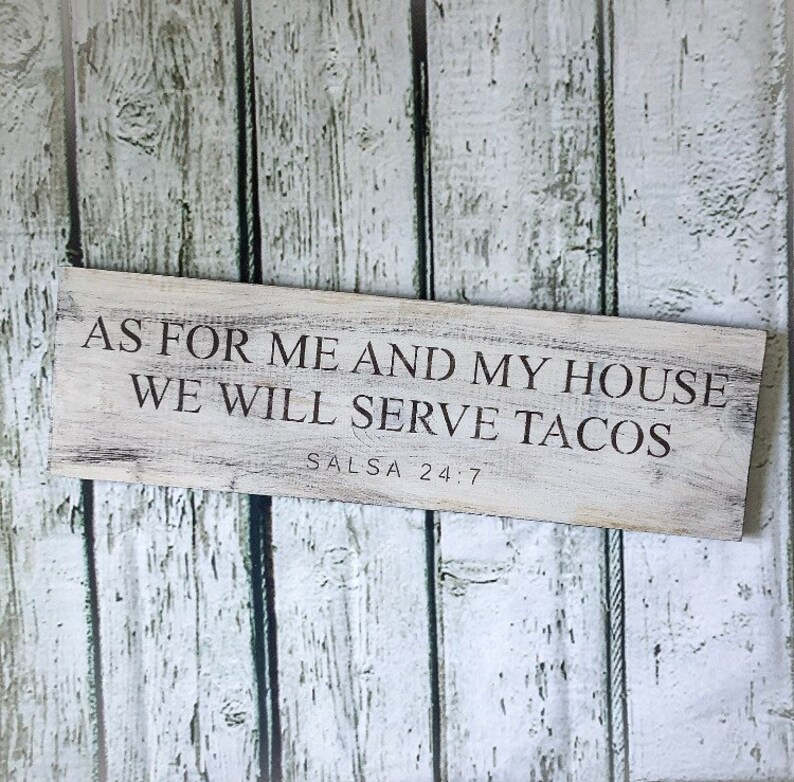 Some examples of gift ideas on Etsy a friend might like:
Locally-inspired Home decor
Locally-made Jewelry
Locally-made candles
Locally-inspired or produced clothing or accessories
A Gift You Don't Have to Unwrap
While we associate a lot of Christmas significance with opening presents in front of the gift giver, there's no hard and fast rule that gifts must be physical, tangible or even wrappable. Why not gift a friend with the gift of an experience? A great way to show a friend you care about them is not necessarily to give them something to store in their house, but to think of spending time with them in an activity you'd both enjoy.
Gift ideas you don't have to unwrap with a friend:
Treat your friend to a mani/pedi and catch up while you are pampered
Invite your friend out for a meal at their favorite restaurant (your treat)
Invite your friend to try something new with you like a new workout class, new restaurant or experience like an Escape Room, art class, etc.
I hope this post helps you to think about ways to incorporate eco-conscious gifts into your holiday shopping. The expression "it's the thought that counts" can have dual meaning in that sense – you are thinking of your friends and thinking of the planet while you celebrate the holidays.