We took this trip two years ago and it was our longest car camping trip to date and first year of what I'll call "serious" hiking (more than a casual 2 hour hike and actually needing hiking boots). We camped out of our car for a week and visited three state parks and three National parks/monuments in South Dakota, which I'll highlight between two posts.
Badlands National Park is located in Western South Dakota, approximately 12 hours by car from where we live in Northeast Wisconsin. We spent our first overnight in Sioux Falls, which is 4ish hours from Badlands National Park, but we loved the downtown so I'm including it at the end of this post, as well.
Badlands averages about 1,000,000 visitors each year, putting it nearly 2,000,000 visitors behind the 10th most visited National Park (Glacier National Park). Many of the people we met included Badlands as a stop on their way to other western parks like Yellowstone. We were somewhat rare among the people we met in that our trip was centered on South Dakota and not beyond it.
Central and Western South Dakota (until you reach the lush Black Hills) is dry, has extreme temperatures and is flat. The Badlands landscape with its rocky outcroppings looks more like it belongs on Mars than in South Dakota and juts strangely out of the landscape after driving roughly 8 straight hours of flat terrain through Minnesota and eastern South Dakota.
Despite the unappealing description I just gave, the hiking and scenery was truly unique in Badlands and it is one of my favorite places we've had the chance to camp and hike.
Tips for Visiting Badlands National Park
Where to Stay: Badlands National Park does not offer a substantial amount of lodging inside the park. There are a number of hotels and motels in nearby Wall, South Dakota. If you want to stay in the park, there is one company that rents cabins (Cedar Pass Lodge) inside the park, but they are not like hotel rooms and have shared showers/bathrooms much like a campground.
We stayed in the improved "front country" campground (Cedar Pass), which has about 100 campsites. This campground features restrooms with coin showers, rough shelters and power poles. There is a back country campground called Sage Creek that doesn't offer bathrooms/water sources or power onsite The Cedar Pass campground was fully occupied when we were there in early June and we made our reservations about six months in advance. It's important to note that the showers are coin operated (so you'll need quarters with you) and that there is a campfire ban because of how hot and dry the area is. You'll need to have food that doesn't require cooking or a propane cooking stove.
How to get there: Badlands National Park is approximately four hours driving time from Sioux Falls, SD and one hour driving time from Rapid City, SD. Sioux Falls has a larger airport of the two, but many people drive to this area as it is so far removed and you need a car once you arrive, if flying into South Dakota.
How to get around: A car is required to navigate the National Park and there is not shuttle service.
What to eat: We didn't go out to eat at all while in Badlands National Park – since we were camping, we had brought our own food for most of the trip. That being said, dining options and grocery options are limited at best. We fully stocked up on groceries before leaving Sioux Falls and picked up ice and refilled our gas tank every time we happened upon a gas station. There are a handful of restaurants in nearby Wall and the Cedar Pass Lodge does serve food although I can't speak to it. We have had really good experiences at National Park restaurants at other parks.
Where to Hike: We were only in Badlands National Park for one afternoon and one night and honestly, it was enough to do most of the hiking we wanted to do. When we were there in early June, it was very hot (upper 80s) and it did limit our mid-day hiking.
Notch Trail: This 1.3 mile out-and-back trail features some steep ladder climbing and some sharp drop-offs, but offers stunning views from the top of Badlands formations. If you're skittish with heights, this might not be a great trail for you. That being said, the elevation gain is only about 130′ and we saw families with young children hiking the trail.
The Door Trail: This 0.8 mile out-and-back trail features rock scrambling and despite its short length, gives you a feeling of being truly in the wilderness, less than half a mile from the trailhead. There really isn't a trail, but markers on sign posts that you follow one to the next to the turnaround point. Be sure to wear appropriate hiking footwear as the rock scrambling can be easy to turn an ankle.
What else to see and do in Badlands
The Badlands Scenic Loop Road takes about one hour to drive (without stopping for photos) and immerses you in the Mars-like formations. The drive is particularly beautiful at sunset or sunrise when the lighting highlights the features. We drove it in full mid-day because it was so absolutely hot and it was a nice hour break to be in the air conditioned car!
The Ben Reifel Visitors Center is located inside the park near the Cedar Pass campground and is a good stop to visit the informational exhibits and plan your trip with the assistance of a park ranger.
Robert's Prairie Dog Town is located just near the Sage Creek back country campground and is, just as described, a prairie dog town. Prairie dogs live in highly organized communities featuring complex tunnel systems and multiple entry points above ground. Prairie dogs are often seen popping up from entry points and communicating with their peers through chirps and whistles. If you walk out into the midst of the Prairie Dog Town and stand still for a few minutes, you'll see and hear these animals popping up and chirping. To access this spot, follow the Badlands Scenic Loop Road west of Pinnacles Overlook (it turns into a gravel road) and the name changes to Sage Creek Rim Road.
Minuteman Missile National Historic Site is another National Park-managed visitors center located just outside Badlands National Park and focuses on Cold War history / the arms race between the United States and Soviet Union and the (in my mind, crazy) fact that thousands of long range intercontinental ballistic missiles were stored "in plain sight" in the western Plain states of South Dakota, North Dakota, Wyoming and Montana. I had no idea that missiles were ready to launch at the Soviet Union casually hanging out in the western plains. It does makes sense strategically, but it's so weird to think of, but if you drive around these states even today, there are 450 active and ready to be deployed missiles just underground. The visitors center features a launch tube and video and informational exhibits. The visitor center is free to visit, but for an added fee and with a reservation, you can actually take a trip down into the missile launch site and control center.
Wall Drug: This place is the cheesiest tourist trap ever, but I can't not mention it because it's got to be the most heavily advertised thing in the state of South Dakota. If you've ever traveled I-95 (runs the East Coast from Maine to Florida) and have seen the campy billboards for a tourist trap called South of the Border, just over the South Carolina border, you get what I'm getting at. There are something like 330 hand-painted billboards for Wall Drug between Minnesota and Montana (a 650 mile stretch) that advertise all sorts of Western wares and "free ice water" and a cup of coffee for just five cents. Apparently the free ice water was what made Wall Drug such a success in the first place, being that this area is a semi-arid desert. Wall Drug is really campy, but we did go (more for the air conditioning than anything else) just to say that we did. The massive indoor shopping complex features its fair share of cheesy souvenirs, but also Western art and antiques, a bookstore, a restaurant, ice cream shop and more.
Sioux Falls overview
We stayed in Sioux Falls for two nights (on our first night and last night) of our trip. We stayed in a no frills Airbnb (which I will not recommend to you), but absolutely loved the downtown area and the food/beer scene. Sioux Falls is not the capital of South Dakota (that would be Pierre, for all you elementary school geography dropouts), but it is the largest population center and has a sizable presence of financial industry. Ever notice that every credit card statement you've ever gotten has a return address in Sioux Falls? You can read a whole article on that here, but it was intentional as an incentive to attract credit card companies to headquarter in South Dakota. Anyway, we did not go to Sioux Falls to tour Citibank, so I digress.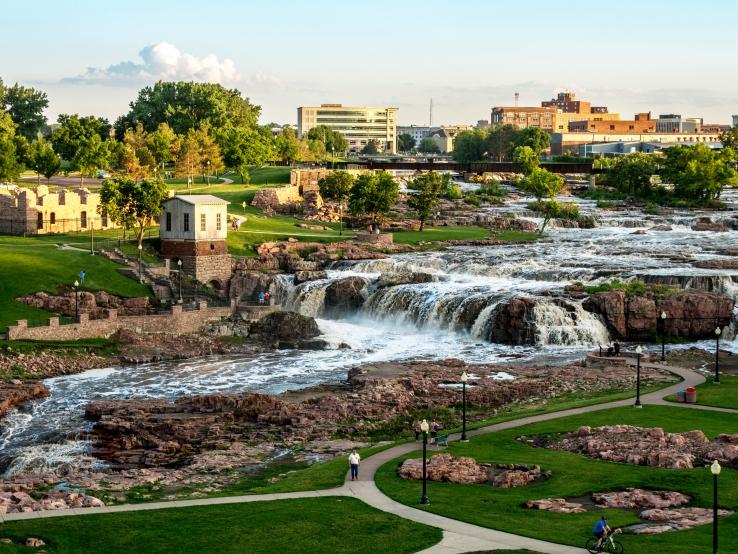 Falls Park: The City's namesake is in a beautiful local park with pinkish sandstone rock formations and a tumbling waterfall. There are calmer water areas where you can wade and ample opportunities for photos and rock scrambling. The park is basically in downtown, features an observation tower for a sky high view and a cafe and gift shop. The farmers market is held nearby in the summer.
Sioux Falls Sculpture Walk: Throughout the downtown, you'll see a mix of temporary and permanent sculptures on display for much of spring, summer and fall. This annual outdoor art show engages visitors and the community to vote for their favorite pieces. You'll find red mini mailboxes where you can drop your ballot and vote for your favorite sculpture. The winning sculpture's artist receives a cash prize of $2,000 and the next nine runner ups receive a $1,000 prize. Each year one of the winning sculptures is purchased from the artist and becomes a permanent part of Sioux Falls downtown public art collection.
Downtown Brewery scene: We visited three downtown breweries – Wood Grain Brewing Company, Monks of Ale Repute / Gandy Dancer Brew Works and our absolute favorite, Fernson Brewing Company. We loved Fernson so much that I made us go back there again on our way home, but my husband (then boyfriend) wasn't opposed either. Wood Grain had the best taproom, aesthetically speaking. Monks of Ale Repute is the restaurant and taproom side of Gandy Dancer Brew Works and offers a full dining menu and a HUGE beer list of other craft brews. Fernson was small, off the beaten path and quirky/exactly my style. Fernson has a taproom downtown and a brewery, we only went to the downtown taproom. Since we were there two years ago, they opened a new taproom that is much less off the beaten path.
If you're looking to plan a trip to Badlands National Park or Sioux Falls, be sure to use the resources at Travel South Dakota and through the National Park Service. We also use AllTrails to plan our hikes and catch up on user reviews before heading out on the trails. Happy travels!