While visiting my family in Kentucky over Thanksgiving for a week, we spent a day and night in nearby Knoxville, TN. It ended up being a very unexpectedly fun weekend destination and we're looking forward to a return trip in warmer weather!
Knoxville is located in Eastern Tennessee, just outside of the Smokey Mountains and associated mega destination of Gatlinburg. It is the third largest city in TN (behind Nashville and Memphis) with a population of just under 200,000 people. Being home to a major university, it felt larger than that to us! Knoxville boasts lovely historic architecture, a very walkable downtown and fantastic shops, restaurants and cultural / outdoor assets.
Tips for Visiting Knoxville
Where to Stay: We stayed outside the downtown at a national chain property, but I would recommend using the lodging finding feature on the Visit Knoxville website to find a property that fits your taste preferences.
How to get there: Knoxville does have its own airport, but it is a smaller regional airport. The least expensive way to fly into Knoxville would likely be to fly into Nashville on a low cost carrier like Southwest Airlines and rent a car to drive the 2 hours and 45 minutes into Knoxville. We drove into Knoxville as we were only about 90 minutes away in southern Kentucky.
How to get around: A car is not required once in Knoxville, but it is needed to get there, unless you fly directly into the regional airport.
What to eat: We stopped at a number of breweries while in Knoxville, as well as an amazing assortment of eateries!
Balter Beerworks: Great small plate options and a full bar, if you're not into beer.
Blackhorse Pub & Brewery: This pub has a fantastic location in the heart of the action on Gay Street (Downtown) in walking distance to shops, restaurants and all the downtown amenities.
Pretentious Beer Co.: This brewery offers a tiny, tucked away tasting room which is dog-friendly in the heart of downtown. They serve all of their beers in specialty glasses that are the proper shape for the type of beer you're about to enjoy (which is thoughtful, but yes, maybe a bit pretentious, too). They actually produce their own glassware, as well!
Hi-Wire Brewing: Hi Wire was one of our favorite breweries in Asheville and we were excited to check out their Knoxville location, too (and pick up a case of my favorite beer). Hi-Wire is located on the revitalizing South side of Knoxville in a former warehouse and they maximize the large space for bean bags and a few games of foot pool (imagine a giant pool table on the floor where you kick soccer balls into the pockets).
Barley's Taproom & Pizzeria: This was a great spot for the end of the night after a lot of brewery hopping. They featured a wide variety of craft taps from Southern breweries and had an amazing vegan pizza on the menu!
Tupelo Honey Cafe: Tupelo Honey is a restaurant we wanted to try in Asheville that we did not get the chance to – they have about 20 locations nationwide, but specialize in Southern comfort food. We stopped for brunch on Sunday morning and the food and mimosas were phenomenal. I tried the Apple-achian Mimosa made with apple cider in lieu of orange juice and with a cinnamon sugar rim.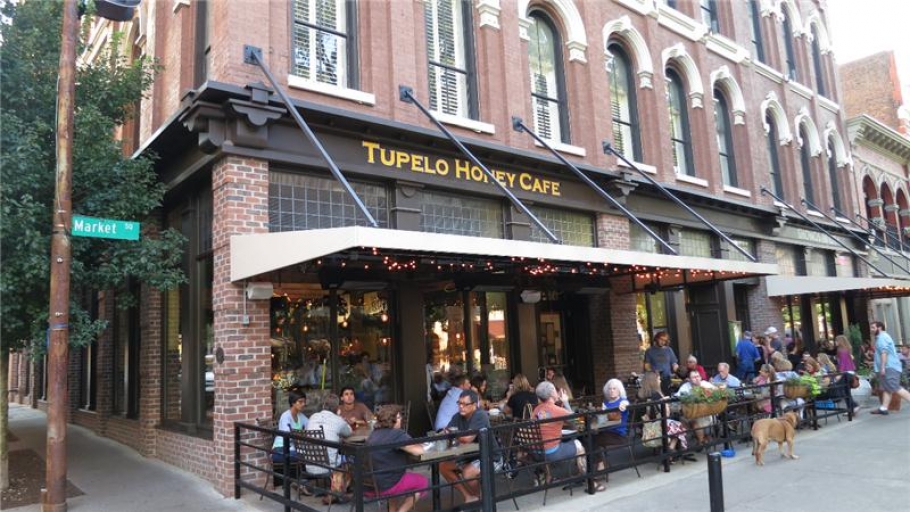 What else to see and do in Knoxville
The Sunsphere: The Knoxville Sunsphere is one of two remaining structures from the 1982 World's Fair and defines the Knoxville skyline. The gold sphere reminds me of a disco ball, but features an indoor observation deck where you can learn the history of the City and see a 360 degree view of Knoxville from above. The Sunsphere is free to visit.
Knoxville Museum of Art: The Knoxville Museum of Art is located just off of World's Fair Park and features three floors of art displays ranging from traditional to contemporary and featuring art from local youth, as well.
World's Fair Park: The beautiful city center greenspace features open space for events, a splashpad, waterway for paddleboarding and trails connecting to the amphitheatre and Sunsphere.
Market Square: Market Square is a neighborhood in Downtown Knoxville that features a pedestrian boulevard and countless shops and restaurants in historic buildings. While we were there, the City was kicking off their Christmas celebrations with live music at an outdoor stage, an ice skating rink and a handful of pocket parks.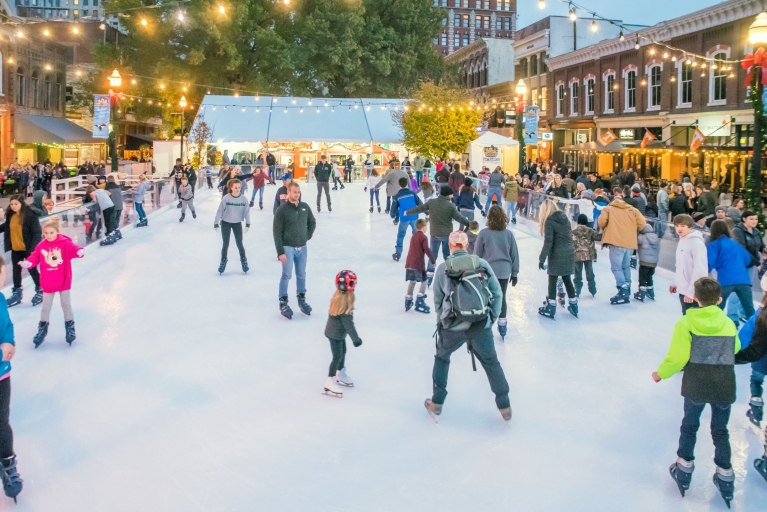 Earth to Old City: This shop in Market Square features lovely handmade soaps, crafts and gift items ranging from jewelry to clothing to home decor. A must stop while in the Downtown area!
Mast General Store: This shop is one of eight locations around the South that features outdoor wear, books and amazing Southern food! We picked up sauces, jellies, GRITS and more grits when were in Asheville this past summer and I was able to restock while we were in Knoxville.
If you're looking to plan a trip to Knoxville, be sure to use the resources at Visit Knoxville and download the Visit Knoxville app! Seriously, I'm not normally a fan of specific use apps like travel ones, but this one was SO handy in helping us find things to do while in the City and catering to our preferences, as well as providing handy links to walking directions through Google Maps. I was hoping that their Visitor Center had been open while we were there so I could thank them for their fantastic resources! Happy travels!