My first memory of encountering lentils (by themselves versus in a dish) was when I was in middle school or early high school and opened the fridge to find a plate of green cooked lentils staring me in the face. In horror, I turned to my mom and shuddered "what IS that?" and my mom, without missing a beat said "oh that's for a science experiment, honey". My mom was homeschooling my younger siblings at the time and I didn't catch onto the joke and shut the fridge door hurriedly and didn't question it. Who would have thought 15+ years later I'd be embracing the mystery science food in my own kitchen?
Lentils are a member of the legume family and are grouped with beans and peas because they grow in pods. Lentils are an ancient heritage food, with archaeological evidence pointing to the foods existence as early as 11,000 BC in Greece. The legume is native to Western and Central Asia but is primarily produced today in Canada, Turkey and India. Lentils are frequently present in Indian and Middle Eastern cooking.
So why have I been making an effort to introduce more lentils into our diet? Well, other than needing to overcome my post traumatic science experiment related stress with lentils (haha), they are a nutrient powerhouse! Lentils are high in protein (the second highest legume protein levels after soybeans) as well as being high in daily values of folate, thiamin, pantothenic acid, Vitamin B6, phosphorus, iron and zinc. That's a lot of big words we probably haven't addressed since high school biology class, so let's break them down:
Folate is of the Vitamin B complex and is present in leafy greens, beans, peas and nuts (among other whole foods) and helps in red blood cell development by helping cells to divide. If you don't have enough folate (or folic acid) in your diet, it can hinder your nutrient absorption.
Thiamin is of the Vitamin B complex and helps the body convert carbohydrates into energy – particularly energy needed for the brain and nervous system. Thiamin is readily present in whole foods like whole grains, meat and fish.
Pantothenic Acid is of the Vitamin B complex and helps the body synthesize proteins, carbohydrates and fat. Like folate and thiamin, it also helps in red blood cell development and in the conversion of carbohydrates to energy.
Vitamin B6 (also known as pyridoxine) contributes to healthy brain development and nervous system/immune system health. Vitamin B6 is present in whole foods like whole grains, meat, vegetables, beans and fish.
Phosphorus helps to build healthy bones and teeth in the body, as well as helping your kidneys to fully function to filter waste. Meat, fish, seeds, nuts, and whole grains are whole foods with high values of phosphorus.
Iron helps your body to oxygenate red blood cells, as well as aiding the process of cells that produce energy for our body. As someone who struggles to adequately absorb iron, tiredness is often a symptom of low iron levels. Whole food sources of iron are beans, certain nuts, dark green leafy vegetables and fortified cereals and whole grains.
Zinc helps your immune system health and your metabolic functions (such as having an appetite, sensory functions related to food like taste and smell) and hair growth and repair. It is found in whole foods such as whole grains, milk and certain types of meats.
In addition to all these nutrients present in lentils, they are a complex carbohydrate with a starch composition that is ideal for people with diabetes. This isn't to say that people without diabetes shouldn't enjoy lentils, but the fact that they are slowly digested makes them a preferred type of carbohydrate for those with issues around many other carbohydrates.
Lentils are also ridiculously affordable. I buy my lentils in the bulk food department at my grocery store and they are around $2 per pound. You can get 14 one half cup servings out of one pound of lentils – that's under .15 cents per serving!
There are two mainstream varieties of lentils I frequently find at my local grocery store – brown lentils and red lentils. You can find green (sometimes called French) lentils at some stores, but they're a bit less common. This article from Bon Appetit details the differences between different varieties of lentils and what recipes they are well-suited to.
Here are a few recipes our family has enjoyed that utilize lentils – I hope you enjoy them, too!
Vegan Enchiladas with Lentils via Mommy's Kitchen I couldn't believe the meaty texture of these lentil enchiladas! The filling is composed of a mixture of seeds, cooked lentils, oats and vegetables and truly comes across as a texture of a well cooked meat mixed with refried beans. They are a bit time consuming to make as the filling has a large number of ingredients, but it was a much healthier alternative to a ground beef enchilada! The ingredients called for in this recipe are fairly easy to find, but you may have to check the bulk food section of your grocery store to find smaller quantities of sunflower seeds or lentils if you don't want to buy a lot for a first go around at using lentils. I also wanted to note that you can, of course, use traditional dairy cheese if you do not adhere to a vegan diet.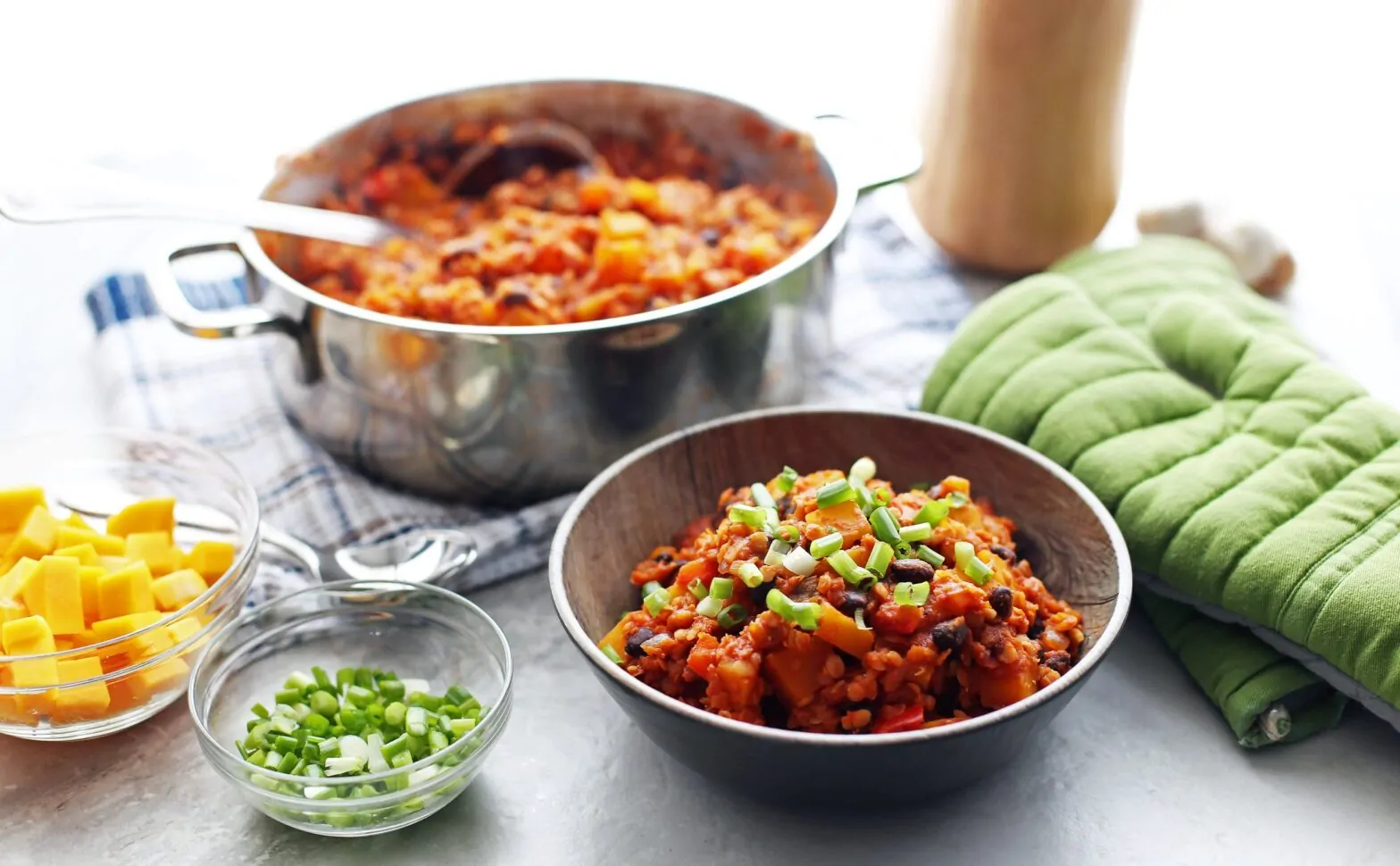 One Pot Red Lentil and Butternut Squash Chili via Yay! for Food We decided this year with us hosting Christmas in our new home that we wanted to prepare a meal that was a crowd pleaser and didn't have a lot of day of prepwork involved. We made two kinds of chili and had cornbread and chips and reheated the chili to avoid too much in the way of a messy kitchen. This was one of the types of chili we prepared. I loved the smoky and fragrant flavors of this chili and the texture of the cooked lentils and butternut squash was just creamy enough to mimic a butternut squash soup, but with the chunky vegetables present like in a good chili. This recipe features all easy to find ingredients, too.
Vegan Lentil Loaf via Yummy Mummy My husband has not stopped making fun of the name "lentil loaf" since we first made this earlier this year. He is not a big fan of the traditional meatloaf and it is definitely a total comfort food for me. For some reason meatloaf and potatoes just immediately transports me back to my childhood. We prepared this recipe in the traditional loaf shape versus in stuffed peppers and while it was a bit more dense/wet in texture than a traditional meatloaf, it was still delicious. The only unusual ingredient that this recipe calls for is flax meal, which you can easily find in the bulk food section or organic and natural foods section of your grocery store.
I have a number of other lentil recipes saved on my Meatless Meals board on Pinterest. Some other lentil-based recipes we're looking forward to trying this month are:
Spicy Vegan Lentil Cakes from Mommy's Kitchen