As I've mentioned in other posts, the month of December was a crazy time for us. We had a lot going on at work, were moving into our new home and had the general fun (but chaos) of holiday gatherings. We replaced a lot of our cookware, dishes, silverware and even our range in the first month of being in our new home so cooking was already time constrained and now device constrained. I had some foresight (miraculously) in November that saved us from completely going off the rails in our healthy eating.
Now, when I think of frozen meals, I immediately hearken back to "TV dinners" – especially my all-time favorite, the Kid Cuisine All-Star Chicken Nugget meal.
I'm sure 90% of other 90s kids parents let them eat these things and I don't blame my parents at all. There were four of us, three of us were SUPER picky about what we'd eat and because my dad had a lengthy commute to and from Brooklyn each day, my mom was on her own with the four of her monster children all day long. We loved these things even though they seem nutritionally questionable now through the lens of an adult! My mom let us have these on weekends and on the odd week night when life was crazy.
Daily Harvest really turns the concept you probably have you in your head of a frozen meal on its head. I had heard of Daily Harvest for a few years now, mostly through advertising on Instagram and as they sponsor a number of podcasts I listen to. Daily Harvest sells a variety of fruit and vegetable-filled fresh frozen smoothies, soups, grain bowls (they call them harvest bowls), oat bowls, chia bowls, lattes and protein bites. They are all vegetarian and I've found the products I've ordered thus far to be dairy-free as well. (I don't want to promise that all products are dairy-free, but a large number are in my finding).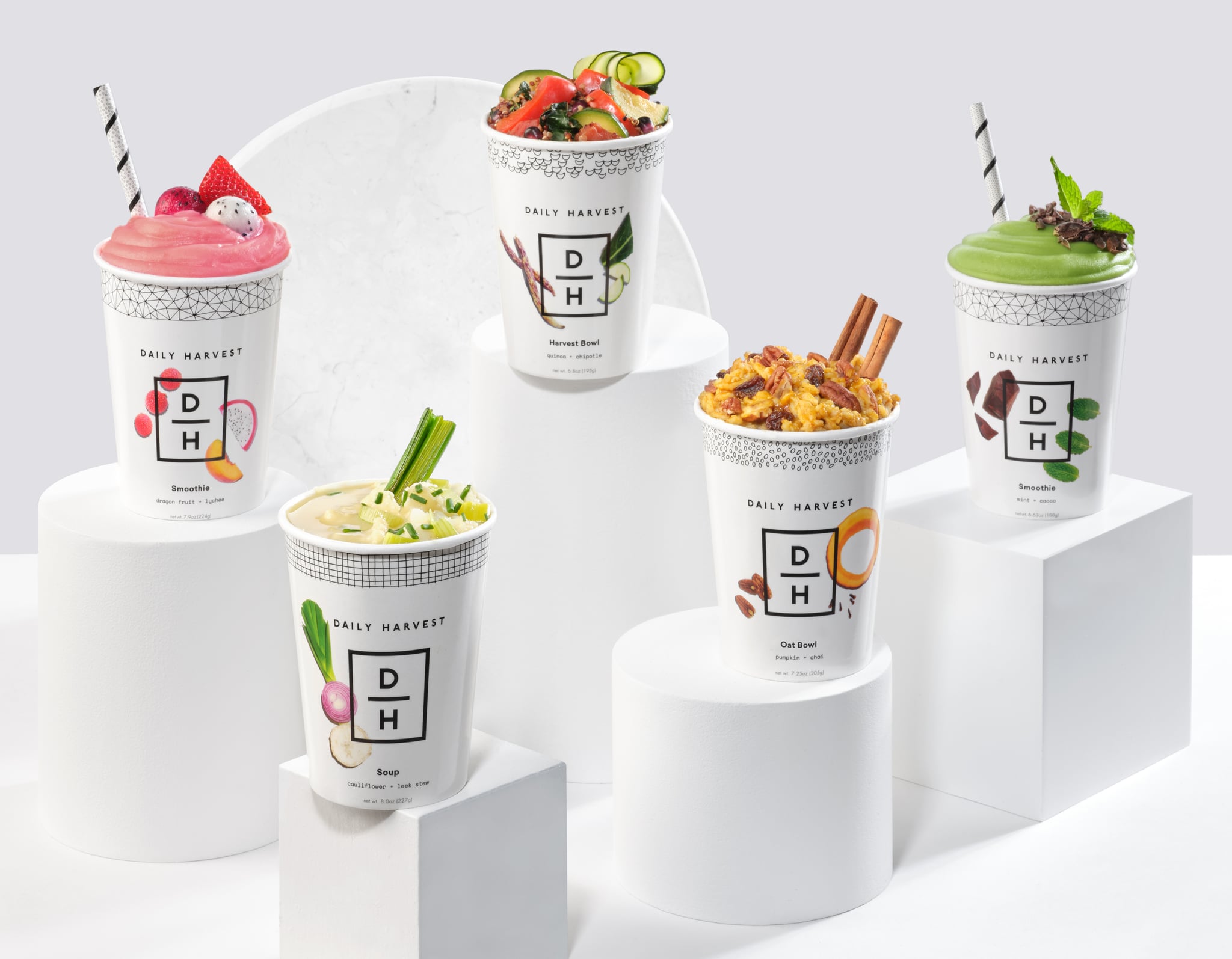 The price point varies depending on the frequency and volume of your orders, but it's safe to say that the average price is around $7 per serving. I had been thinking about ordering for quite some time, but their Cyber Monday sale of buy one shipment, get one shipment free got me to finally give it a try. I ordered two weekly shipments of 24 cups each and then paused on shipments for 2 months to give our family time to work through them and figure out (if) we liked them and (how much) we liked them. My total price spent was $167 for 48 servings in a mixture of smoothies, soups and harvest bowls. That worked out to an unheard of price point of $3.47 per serving. You can't even get a fast food meal for that price! I'm here to give you an honest review of what I thought of Daily Harvest and I have a discount code if you'd like to try it yourself.
Daily Harvest's concept intrigued me for a few reasons:
Their smoothies, harvest bowls and soups are all heavy on the fruits and vegetables.
Compared to most frozen foods, they are very low in sodium. It varies a lot by product, but some of them are less than 5% in daily value of sodium!
They are ridiculously easy to prepare – harvest bowls and soups are ready after 4 minutes in the microwave and smoothies blend in seconds.
They make it pretty easy to skip your shipments so you don't end up paying for something when you don't want or need it.
The Daily Harvest products we ordered included – I have put asterisks next to my all-time favorites:
Smoothies:
Acai and Cherry
Banana and Greens
Chocolate and Blueberry**
Mango and Papaya
Mint and Cacao**
Strawberry and Peach**
Soups:
Butternut Squash and Rosemary Puree
Tomato and Zucchini Minestrone**
Turmeric and Lemongrass Broth
Harvest Bowls:
Brussels Sprouts and Lime Pad Thai**
Butternut Squash and Kale Shakshuka**
Cauliflower Rice and Kimchi
Cauliflower Rice and Pesto
Chickpea and Za'atar
Quinoa and Chipotle
Red Lentil and Cumin
Spinach and Shiitake Grits**
Sweet Potato and Wild Rice Hash**
So how exactly do they work? It's pretty straight forward for each type of food:
Smoothies: I found that they are smoother and blend more quickly if I put them in my fridge overnight. Open the cup and consult the label to see what they suggest you blend with (either milk or coconut water, generally) – fill the cup up with liquid (while still having the frozen product in there) and them dump into your blender. Let sit overnight in your fridge and blend in seconds in the morning. I sometimes add a bit of protein powder, too.
Soups: Depending on the soup, some require blending and some do not. Those that do not can be reheated in the microwave or on the stovetop in 4 minutes.
Harvest Bowls: Reheat in the microwave or on the stovetop in 4 minutes. I sometimes like to add a drizzle of oil or fry an egg and throw it on top to keep me fuller longer. Sometimes I'll add a drizzle of hot sauce, balsamic or avocado oil on, too.
A few other considerations to think about:
You do need a good amount of freezer space to commit to this type of shipment. This never would have worked in our old apartment where we only had a regular kitchen refrigerator/freezer. My parents gave us their full size chest freezer when they moved out of state and it is currently exclusively housing our Daily Harvest cups. Daily Harvest products ship in paper cups with plastic lids (the idea being you can easily transport your food once prepared if on the go) and they don't store flat, you have to stand them up or stack them.
You need to actually like fruits and veggies. My husband has liked some of the harvest bowls we've tried, but he is not as big a fan of obscure vegetables as I am, so some of the flavors haven't been his favorites. I don't know how kid-friendly some of the soups and harvest bowls would be. The smoothies likely would be kid-friendly.
It is a comparable price point to meal kits you have to prepare yourself, so in that respect I think it is a good deal, but the price point is probably not sustainable for everyone.
My overall takeways:
They are really, really good compared to the average frozen meal you'd have. I love that the ingredients are whole grains and vegetable/fruit heavy. I can't believe how fresh they taste either. One of my favorites, the sweet potato and wild rice hash has avocado in it and I cannot believe how green and fresh the avocado is!
The smoothies have been hit or miss for me – unless you have a really strong blender, it's difficult to blend them morning of without having the ingredients thaw out a bit. The only other way to make it blend is too add more liquid which dilutes the flavor entirely. I've had my best luck letting them thaw in the fridge overnight, but that requires pre-planning.
I can't believe how filling these frozen meals are. Especially when I add an egg on top, I am full for hours and don't feel the desire to snack like I usually do mid-day.
Interested in trying Daily Harvest for yourself after reading my review? You can use my discount code for $25 off your first order by following this link.
In the spirit of transparency, please know that I'll also receive $25 back onto my account if you use that link and place an order. Here's how much Daily Harvest initial shipments will cost if you utilize the $25 discount code:
Weekly 9 cup shipment: $44.75 with the $25 discount applied, or $4.97 per serving.
Weekly 12 cup shipment: $64.88 with the $25 discount applied, or $5.40 per serving
Weekly 24 cup shipment: $142.76 with the $25 discount applied, or $5.94 per serving
Monthly 24 cup shipment: $142.76 with the $25 discount applied, or $5.94 per serving