I'm on my second month now of planning my meals for an entire month up front. It requires more planning, but I've found that by buying the majority of dry/bulk ingredients and frozen ingredients at the beginning of the month, I'm more accountable to actually making the recipes and less likely to fall into the "forget it, let's just get takeout" habit.
We aren't following any specific diet, but I was trying in January to cook more plant-based meals and to make our primary protein sources tofu, beans and fish. I challenged myself to try new recipes that we hadn't used before, so I'm sharing some of our favorite newly-discovered recipes we tried this past month.
Well and Full's Winter Buddha Bowl with Winter Kale Falafel: This recipe was quite time consuming to make, but it was so delicious and hearty and I wished I had doubled the falafel recipe and frozen some because YUM. I omitted the beets because I'm not a fan – so the bowls didn't have that lovely pink color in the barley, but it was delicious nonetheless. I reheated my falafel in the toaster oven to crisp it up a bit and then served the barley + kale mix warm with the tahini dressing cool. It was a lovely texture and flavor dish that reminded me of Mediterranean summer inspired flavors.
Earth of Maria's Easy Vegan Potato Curry: I've been obsessing over how easy it is to make perfect rice for dinner with our new Instant Pot and now that I can make pristine jasmine rice in about 15 minutes, Indian curries will be a regular mainstay in our menu. This potato curry came together in under an hour and is aromatic without being spicy. Talk about a great winter comfort food – potatoes in a warm creamy sauce. Yum. The only unusual ingredients you might need to pick up to make this are curry powder and garam masala. Both are available at any grocery store.
Mediterranean Sea Bass by Skinny Taste: I took some artistic liberties with this recipe and actually used Red Snapper in lieu of Sea Bass because that was what was a better deal at the seafood counter the week I prepared this. I also eliminated the fennel because I have an absolute distaste for fennel and its flavor. I don't mind adding fennel seed to dishes, but raw fennel is just a texture/flavor I can't get past. Even with these modifications, the sauce was a sweet and salty delight – especially with the olive addition.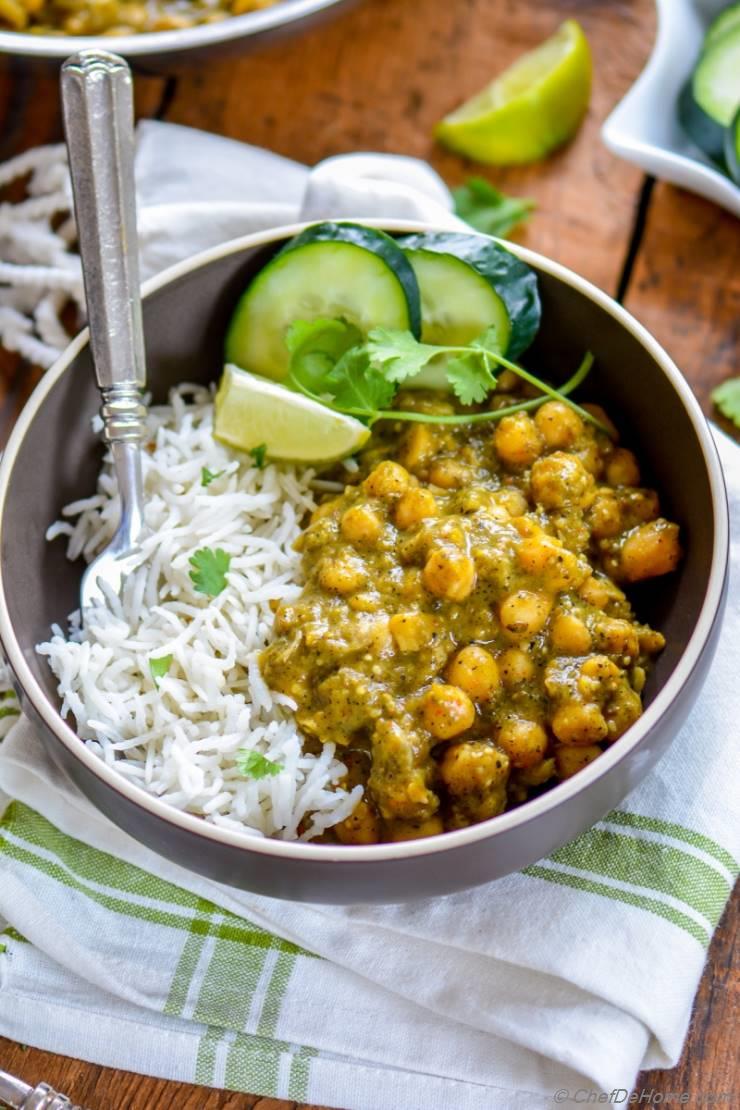 Chef De Home's Roasted Tomatillos Chickpea Curry: As I said before with the rice, the ability to cook perfect beans in the Instant Pot is another huge win in our household. I like buying dried beans, soaking them and cooking them in the Instant Pot as opposed to constantly buying canned beans. There's no salt in dried beans and it's packaging-free when I buy it in the bulk section. I've never used tomatillos in a recipe before, but know that they're a critical part of a salsa verde. This recipe almost seemed like a salsa verde curry and it was amazing. The color is pretty verdant, but once you get past that, the flavor is tangy with a little spice, in the most interesting way possible. We served this over jasmine rice with a side of naan bread. Don't skimp on the cilantro or lime – they really add an important flavor component.
The Vegan 8's Best Vegan Queso: One of the things I miss most about not eating dairy (and am constantly seeking good dupes for) are creamy dips. I had amaaaaaazing vegan queso at Nacho Daddy's in Las Vegas this past fall, but I never thought I'd come close to recreating a creamy and flavorful fake out queso. I was wrong! I brought this as a topping for our build-your-own burrito bar on our friend ski trip two weeks ago and it was a hit even with the most carnivorous eaters. It would have been better if I'd read the directions in advance and soaked my cashews for longer. It was a bit gritty because I didn't, but honestly the flavor made up for it. It's also unusual to find queso that is vegan and isn't flavored with nutritional yeast. I used Kite Hill non-dairy yogurt to make this queso and will 100% be making it again in the future.
Sheet Pan Crispy Teriyaki Tofu and Broccoli: Some people have given me crap about eating tofu (to which I point them to my post on tofu and its health benefits), but here's the thing – I love Asian cooking and if I don't cook this myself in a clean version, I'm inevitably going to order in takeout with it. I'm 100% sure this version I make at home is healthier. This recipe was loved by both myself and my husband and earned the quote: "That was the best tasting broccoli I've ever had in my life, you can keep that recipe in the rotation" from him. The secret to this recipe is the oven roasting in a maple syrup + soy sauce + sesame oil glaze. The broccoli will crisp up and be intensely flavored, and if you press your tofu long enough – it should be crispy. It won't be as crispy as it would be if you pan fried or deep fried your tofu, but it's still really, really good. I served over Instant Pot brown rice and finished with sesame seeds. Tastes almost as good as takeout.