I've taken a break from the home styling and decorating posts because we haven't really had much to do since we moved into our home in December. Now that we're finally easing into more sunshine and somewhat warmer weather, we are looking to do projects in our yard and in our screened-in porch.
When we first put the offer in on our house, my husband and I were pretty "eh" about the screened-in porch, but everyone we showed it to LOVED it. Now that we've been thinking on it for a few months, I see the potential to create a backyard haven with comfy seating, space to hang out and have a drink, read a book or enjoy nice weather without the bugs. When I started looking for images of sun rooms (which ours is not, but the design motivations still apply!) or screened-in-porches, I found the most comfortable looking images and it got me excited to work on this room this summer.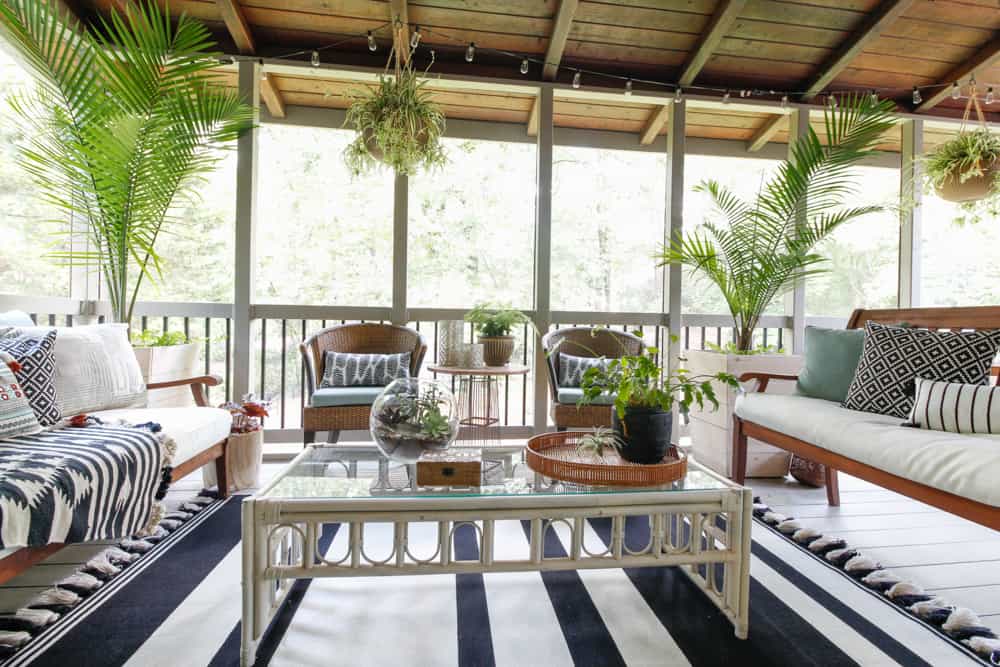 What we're working with: The screened-in porch currently is looking a bit shabby. We scrubbed it top to bottom and are repairing the screens and removing excess foam insulation that is unsightly. We had some white string lights that we had on our small patio at the apartment which we got a few more strings of and hung in the porch area. That immediately brightened things up. You can see the green chairs that we have out there – those will stay, but the cushions and the small rug will not. The rug actually belongs in our laundry room, but it's temporarily out here until we figure out something more permanent!
We also moved with us two lime green patio chairs that we'd like to incorporate into the design because they're barely used. I want to be one of those people that has a cohesive design aesthetic, but honestly my design style is just things I like. I think what ties it together will be natural materials with greens and blues, but it will be a bit non-cohesive in the end. The space is large enough to house a conversation set for hanging out and a small bistro table setup if we'd like to eat out there. Until we get an outdoor shed, the space will also be where we store our bikes.
Conversation Sets: I love the look and feel of a conversation set that has a sofa and two accent chairs, plus an outdoor coffee table. This feels like a comfortable spot to read a book outside or share drinks with friends on a summer evening. I am really digging either a contemporary metal set or a modern spin on wicker.
Bistro Table: I would like to have an area that is more conducive to dining (and less messy than me eating from a coffee table) – but I don't foresee at this time us eating meals out there that often. As I've learned in the first six months in the house you learn how you'll use the space once you're in it, so I won't write off outdoor dining entirely. I'd like to use the lime green tables we have, which puts me in a weird place of needing just a bistro table without the chairs. If I can find a really good deal on one with chairs, I'll just keep the lime chairs around as extra seating. I'd like to have the bistro setup away from the conversation set on a smaller round rug, kind of its own separate space.
Boho-Inspired Accessories: I'm leaning into the teals, greens, blues and natural tans.
Area Rug: As someone who is permanently cold, I'm looking for a large area rug that covers the entire space where the conversation set will be. I love going outside barefoot and because the screened-in porch is shady, that floor is cold! I love the idea of area rugs, but honestly picking them stresses me out. I had Jon pick our two large area rugs in our living room and family room and he did a great job – I'll probably leave the final decision to him on this, too. I love a tie-in of greens and teals and navy, but I'm unsure of if I prefer organic (natural) designs, geometric or abstract.
Outdoor Firepit Area: This may not be a project for this year (unless we are in quarantine into summer in which case, WHY NOT?) but we would like to install a firepit area in the backyard (for when we want to be really outside, not just partially outside). I'd love to do a built-in one, but we're unsure of how to navigate some weird clauses in the zoning code in the municipality we live in, so we may end up going with a standalone one. Either way, I love the look of multi-colored Adirondack chairs around the firepit. Did you know they make chairs with cupholders and wine glass holders now? This is a must have for any backyard seating setup.
We have a lot of broken up cement from a former pool pad in the backyard that has the look of flagstone. While this is ambitious, I think we might make use of a quarantined weekend to construct our own DIY flagstone patio and add gravel or quick cement in between the stones if we can mosaic them closely together. I like the idea of it being a flat surface for chairs and drinks and it's FAR cheaper if we do it ourselves.
Other Decorative Elements: Last, but not least – I'd love to include some greenery in planters and put some wall hangings up in our screened-in porch. I'm going to wait until we have all of the furniture picked out and try to bring it together with some artwork. I can't even begin to imagine what it might be without seeing the room put together, but we have a blank open wall that isn't windows (the house side) that could really use something eye catching.
How do you use your indoor / outdoor and fully outdoor spaces? Does your use fit the way you designed them?