Our weekly farm share has us receiving super fresh, seasonal vegetables every Wednesday. We've definitely got creative with our cooking to keep things interesting. I'm also making an effort to try new vegetables I don't normally eat to expose myself to different varieties. As you'll see below, a lot of these recipes are quick fixes with a pasta – I really underestimated how delicious of a meal you can make with pasta and some sauteed vegetables.
Here are some delicious recipes that I'd never tried at home before that we've really enjoyed. I forgot to take pictures of almost all of these, so I'm linking the photos from the authors below!
Zucchini Noodle Carbonara by Spend with Pennies. Note that this recipe calls for spaghetti, but you can use vegetable noodles. We had a lot of extra zucchini on-hand, so I subbed zucchini noodles. I also used some salami in lieu of bacon, but honestly in quarantine you can just adapt whatever you have for whatever you don't and call it a day. The eggy, cheesy sauce of a carbonara sticks to your ribs and is so satisfying. I loved the way the creamy egg and parmesan mingled with the saltiness of the cured meats. My husband is not a big zucchini fan, but this had enough flavor that he didn't mind it made with zucchini noodles. I don't think it would reheat well if you use vegetable noodles though!
Garlic Broccoli Stirfry with Chickpeas by ElaVegan. We brought the ingredients to make this up to the cottage one weekend and really enjoyed the flavors in this. It is good with chickpeas, but if you aren't vegan, I think using half chickpeas and half chicken would add a more interesting texture. The maple syrup really shines in this sauce! Make sure to give it enough time to thicken properly, we were hungry and rushed the process and it was a bit more watery than it might have been if we were patient.
Bok Choy Fried Rice by My Body My Kitchen. In the early spring days of our farm share, we were somewhat inundated with bok choy. These next two recipes were born of my goal to find ways to use these veggies up! The fried rice was great because it could use both the greens and the stems – often times I'll find recipes that just call for stems. It had great flavor without the density and grease that are often associated with fried rice from a restaurant.
Skillet Chicken with Baby Bok Choy by Simply Recipes. I made this for dinner when a guest was over and I served them with a simple potsticker – oh my goodness it was a hit. Our bok choy was smaller than the plants pictured here, so we did not serve the chicken on top of the, but rather to the side. I'd like to prepare this again and try it in a cast iron skillet to see if I could get a better sear on the chicken and bok choy. All in all, these are semantics – the flavor was great and it was a wonderful way to test drive bok choy.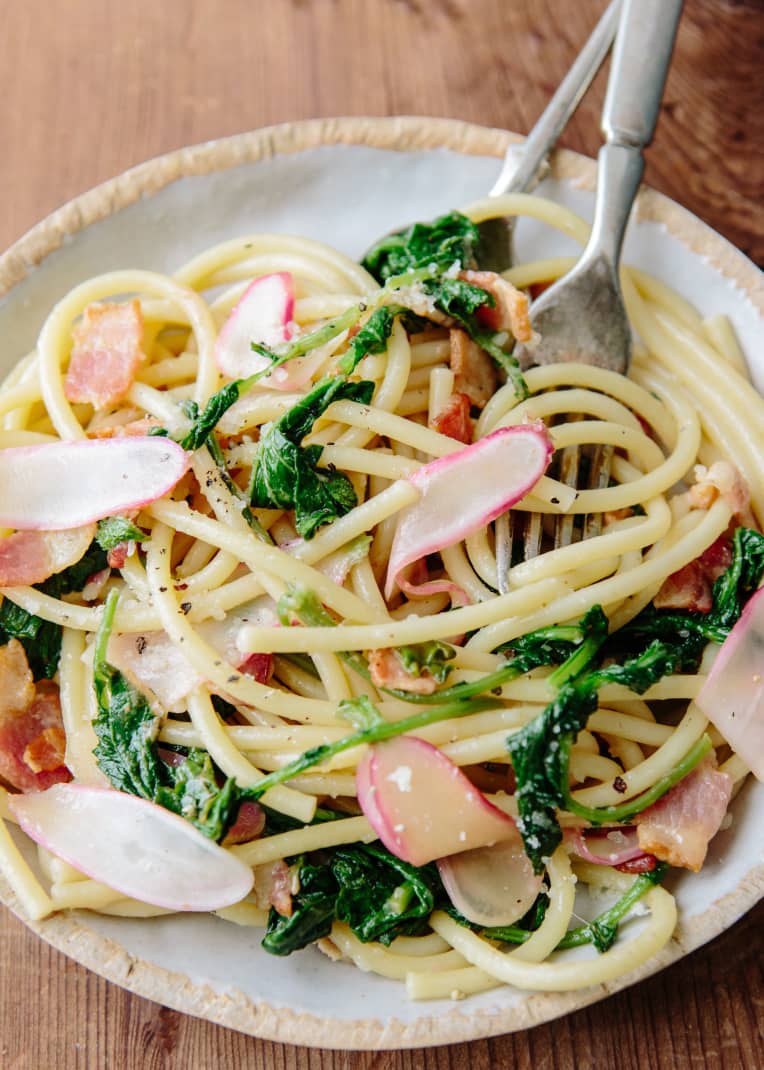 Bucatini with French Breakfast Radishes, Bacon and Greens by Kitchn. My favorite type of radish is the French breakfast radish. I was first introduced to these in college when I had a summer job working for a farm stand selling produce at markets for them. We always described these as the radish for people who don't like radishes. They are milder and have far less of the harsh spice that is often associated with round red radishes. The purple and white ombre coloring is quite beautiful, too. I love these by themselves, in salads or in this recipe with pasta. We skipped the bacon (because we didn't have any) and it was still flavorful and delicious.
Lacinato Kale Pasta with Parmesan and Breadcrumbs by Brooklyn Supper. I cannot say enough good things about this recipe. Kale sauteed in butter, mixed with pasta with lemon zest and toasted breadcrumbs? I pretty much died and went to umami heaven. The lemon butter breadcrumb crunch balanced the smooth, sauteed kale perfectly here and was light in flavor, but also gave you that savory mouthfeel that you might expect from an Asian recipe. I'd never tried this variety of kale before, but now it will be a household staple.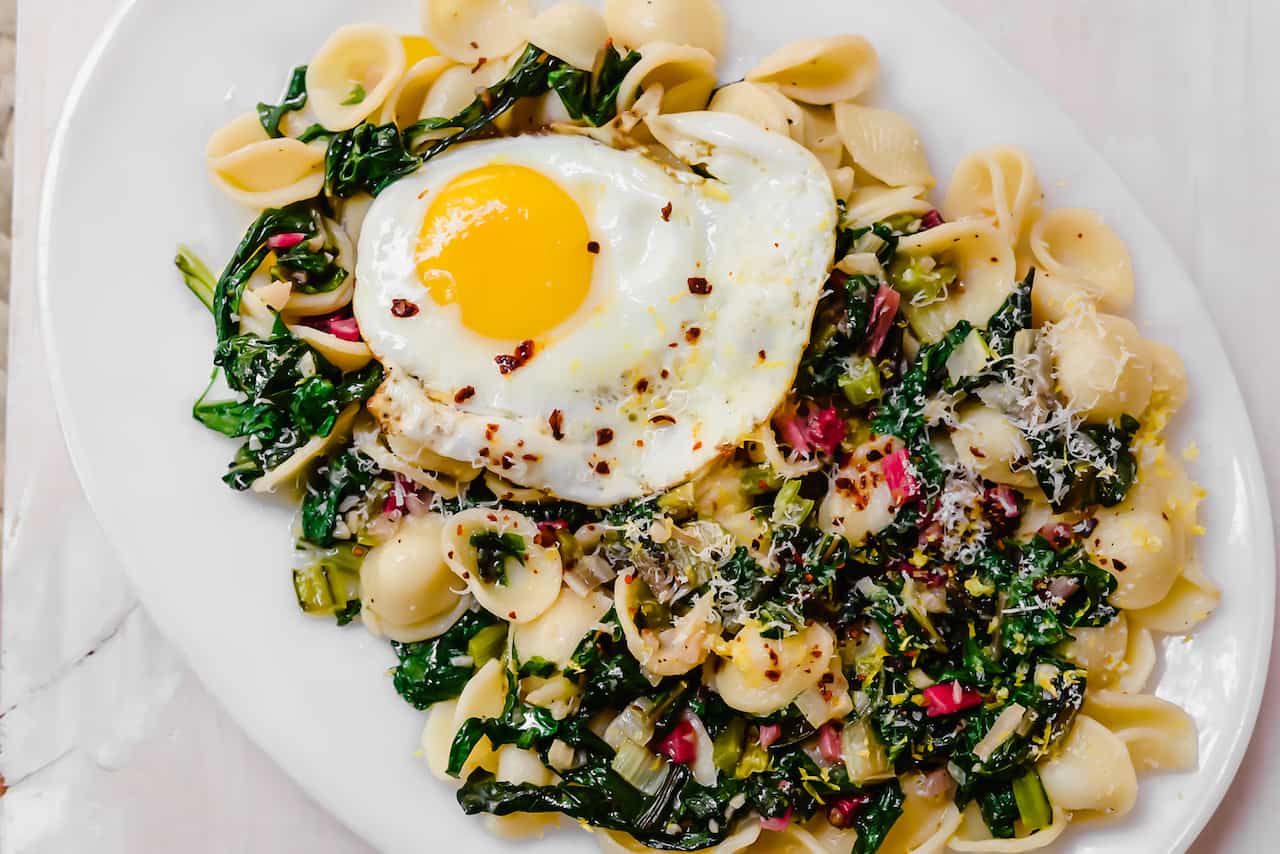 Orecchiette with Swiss Chard, Parmesan and Fresh Lemon by Little Ferraro Kitchen. Last, but certainly not least, we used a head of rainbow Swiss chard for this recipe and I believe we used bowtie pasta because I didn't have orecchiette on-hand. The Swiss chard wilted so nicely and the lemon flavor and crushed red pepper flakes was a fantastic combination. I have only ever used Swiss chard sauteed with meat – never as the key flavor in a dish, only a supplement to flavor the meat. I really underestimated this vegetable… I'll be looking for more Swiss chard vegetable recipes from now on.