I shared a bit of insight into my skincare routine in a blog post last year and how I'd found affordable options that keep my skin looking healthy. I won't say that my skincare regimen was built to withstand the physical toll that stress has taken on my skin during COVID-19, but in *normal times*, my skin was really looking healthy and cooperating!
While I love the moisturizers I use (primarily CeraVe products), I'm really trying to find plastic packaging alternatives and green my bathroom routine. Not everything I've tried has been a success, but when I find a success – I want to shout it from the rooftops!
I recently tried Native Essence Botanicals (Native Essence website) or (Nativessence on Etsy) face balm and SPF moisturizer and I completely love them!
Native Essence Botanicals is a California-based boutique skincare producer that specializes in small batch production of all-natural unisex skincare products made with the planet in-mind. This means that they take care to include these ingredients / practices in their production:
Using minimally processed ingredients
Using certified organic ingredients
Cruelty-free production methods
Using biodegradable and recyclable packaging materials
Some of the products that Native Essence Botanicals produce include:
Body oil and lotion
Facial oils, serums, toners, moisturizers and masks
Natural toothpastes, deodorants
Face wash
Men's shaving oil
I bought two products to start with: the Vanilla Rose Face Balm and the Botanical Day Cream. I typically use a serum and a SPF moisturizer daily, and was hoping to emulate that routine through these two products.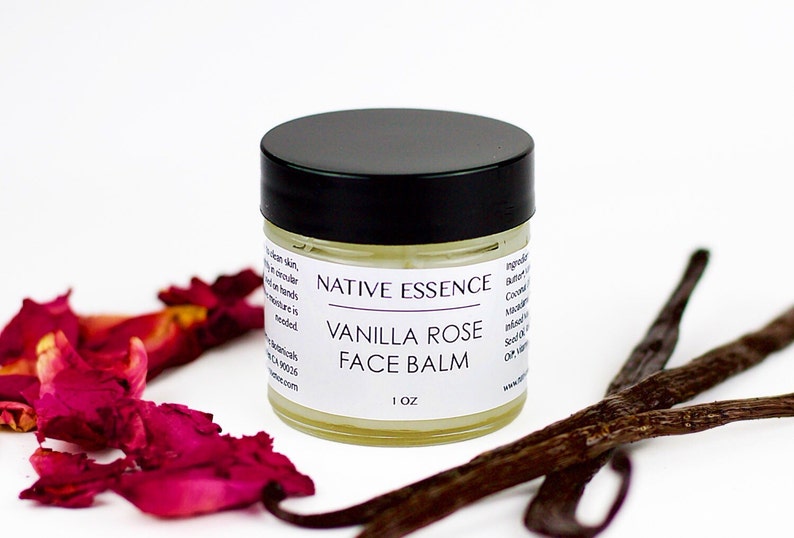 The face balm reminds me of the consistency of Burt's Bees lip balm in the old fashioned tins. I'm not even sure if Burt's Bees still produces their lip balm in that fashion anymore, but it has that sort of soft yet waxy feel to it. I find that you can warm the balm by circling your finger in it and then I apply a few swipes around my face and rub it in gently. I'm normally sensitive to items with rose oil in them, but the scent is very minimal and I've had no sensitivity after a week of use. It leaves my skin feeling soft and nourished. $11.95-$29.95 depending on size.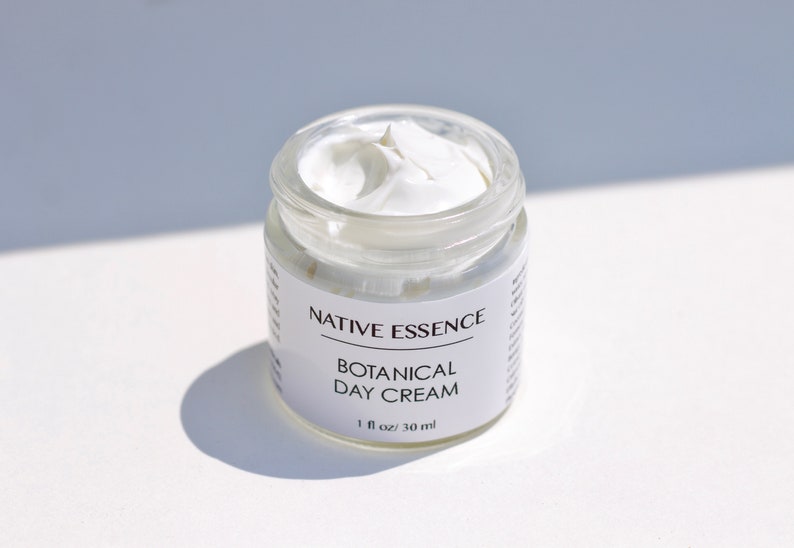 I apply the day cream on top of the face balm to make sure I'm still getting my daily SPF protection! This natural sunscreen uses Zinc Oxide. If you've ever used Zinc products before – they are not only effective against the sun and they have the added benefit of helping to fight acne. Zinc-oxide products are considered a "physical sunscreen" and are sometimes called non-chemical sunscreens. Sometimes people prefer them because they are viewed as more natural.
Some more science-backed reading on the subject:
Read a bit more about sunscreen safety from the Skin Cancer Foundation
Read more about sunscreen and physical vs. chemical sunscreens from the American Academy of Dermatology Association
I've used Zinc-based facial sunscreens for years for this reason. They are generally less oily (I've found) and need to really be rubbed in, otherwise you risk having white streaks on your face or body. I use just one swipe of this product across my face and neck and think that the 1oz. jar I bought will likely last for some time. It doesn't apply quite as smoothly as my former moisturizer, but it smells good and gets the job done. $13.95-$29.95 depending on size.
Eco-Friendly Packaging
In addition to wanting to see planet-friendly ingredients used in my beauty routine, I was hoping to find an option that generates less waste. Their standard single use packaging is fully recyclable (using glass and recyclable plastics). As I noted above, they make an effort to use planet-friendly packaging for shipping, too.
One innovative practice I had to give a shout out, too, is offering some of their products in packaging-free refills. This is similar to the concept that Blueland uses for their cleaning supplies. While cream products won't ship this way (obviously), you can purchase a zero waste wooden container with an original fill of one of their balms, and then purchase packaging-free cube refills that you melt and use out of your container. These cubes are shipped in a reusable wax paper bag in .5 oz sizes (small enough to fill any of their standard jars) and you simply melt the cube in the appropriate jar to reuse.
I will likely order refills and just continue using my glass jar – washing between uses. See a photo of the wooden jar below and the refill cubes.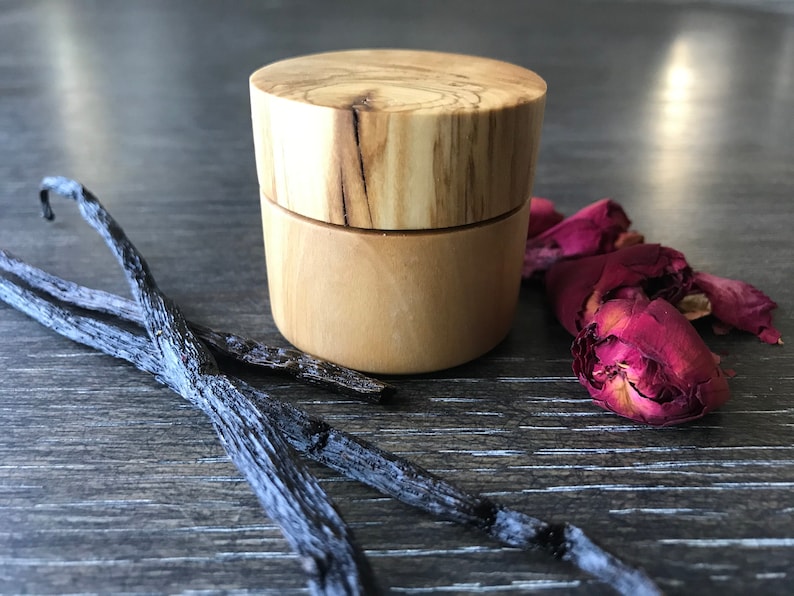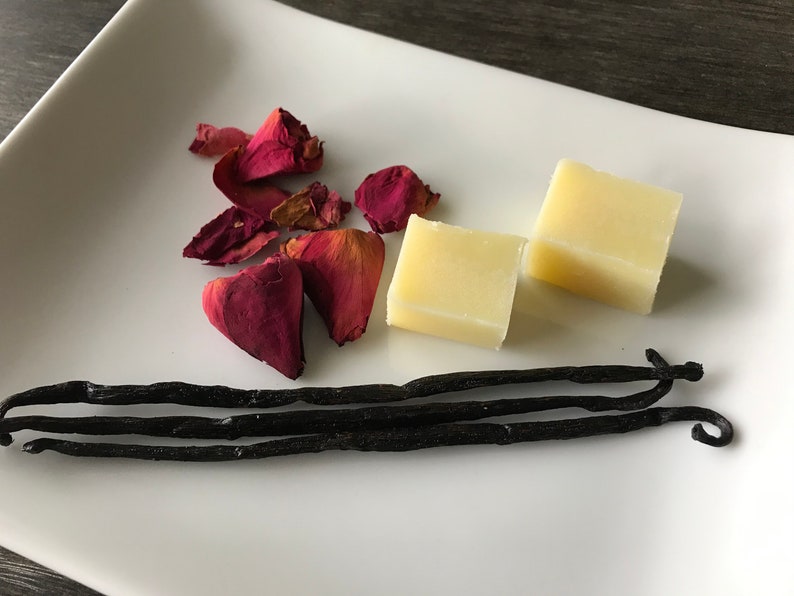 I'm really excited to have found a company that produces products I can feel good about, feel great on my skin and have taken strides to reduce packaging in their production. I'm looking forward to trying some of their other products when I run out of my current supplies and to trying out their balm refills. Some other products I have my eye on include:
I highly recommend you check out Native Essence Botanicals on Etsy or on their website (Native Essence website). If you make an initial purchase of more than $25 on their Etsy shop – you can use coupon code new4off at checkout to get $4 off your first purchase. I'd love to hear what you think of their products!