One of the ways that we helped mitigate standing water in our yard (see my earlier post on functional landscaping and basement waterproofing) was to incorporate native plants into our landscaping. I break down the information you need to plan a pollinator garden and set your yard up for success!
Establish Your Goals for your Garden
What are your goals in creating a pollinator garden? There might be one or several. Some common goals:
Reducing the percentage of your yard that needs to be mowed
Attracting pollinators (birds, bees, butterflies, bats) to your yard
Managing water / providing improved drainage
Aesthetic enhancement of your yard
Desire for lower maintenance landscaping
Our primary goals with our garden were improving drainage in our yard and reducing the percentage of our yard that required mowing.
Determine Your Garden Conditions
Before you start diving into plant types, you need some baseline information about your garden area. Or maybe you gather information about several potential sites that are candidates for your garden. At a bare minimum, you should learn:
Your soil type (clay, loam, sandy)
Your sun / shade levels
Your drainage patterns (which ties into your soil type) and how low this area sits (does it drain well, or is there standing water?)
The other users who might go near your garden (kids, pets)
You can determine your soil type by purchasing a soil testing kit or by contacting your local Cooperative Extension office to see if they offer this service. Determine your sun and shade patterns by taking a photograph on a sunny day from the same vantage point at different times of the day. You can determine how many hours of direct sunlight your garden has in key hours (10am-2pm). Note drainage patterns by evaluating this area of your yard during rain events. Is it soggy with standing water after a big rain event? Is this in a low spot in your yard?
Determine the Size of your Garden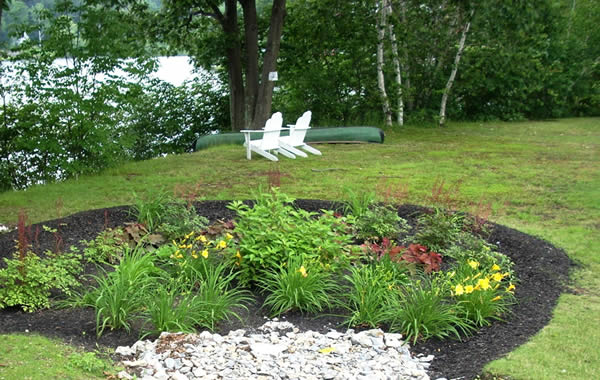 If you have an area selected in your yard and know the conditions of the site listed above, figure out spatially how large of a garden you'd like to commit to. Organic shaped gardens (kidney bean shaped, round, oval) look more natural, but can be more difficult to mow around. The size of your garden will come into play when you determine the types of plants you're interested in growing as you'll have to determine their space needs as they grow year over year!
Research Native Plants that Perform Well Regionally
There are a number of excellent resources when it comes to getting information on native plants that perform well in your climate. Some of the best online resources I've found include:
Wisconsin Department of Natural Resources: Native Plant Lists (Wisconsin/Upper Midwest specific)
Wisconsin Pollinators Native Plants (Wisconsin/Upper Midwest specific)
Lady Bird Johnson Wildflower Center (National)
National Wildlife Federation Native Plant Finder (National)
Some things you'll want to consider in garden planning:
Bloom season (you'll want to have something in bloom in your garden throughout the season to maintain color and pollinator activity)
Mature plant height (you can place tall plants in the center or in the back of a garden area and shorter ones toward the edges or front)
Functions of the plants (does one attract bees and another attract butterflies?)
I've linked the list we built out of plants that were a possibility for our yard here if you'd like to see an example as a resource.
Source Your Plants
Native perennials can be far less expensive to obtain (especially if you get young growth plants) than non native plants that are grown elsewhere. Our average plant cost was $5-6 and around $30 for shrubs. We spent approximately $300 on plants for our 700 SF garden.
You can access native plants from a number of locations:
Greenhouses and nurseries
Native Plant Sales through local conservation or preservation groups (sometimes Botanical Gardens, nature conservancies, Master Gardener clubs, even local Cooperative Extension offices host native plant sales as fundraisers)
See if your state is one of the 21 that has Wild Ones chapters. This organization offers education and access to plants for those who are longtime gardeners or new to native plant gardening.
Contact a Master Gardener program in your area. You can likely connect with someone who is in the know about native plants. Master Gardener Program Listing (national)
Google "Native plant sales + your state/city" and see what comes up!
We were able to work through our list and find plants that were most readily available. We didn't end up sticking to our list explicitly, we took the advice of the nursery and substituted out some plants they thought might perform better. You can build out your plant preferences well in advance of actually planting. We made our list in the early spring and didn't shop for plants until May.
Prepare Your Garden Area
Removing grass by solarizing: If you know in the fall that you'll want to garden in an area that is currently grass, you can kill the organic growth (grass) underneath by covering your garden area in cardboard and black plastic. This starves the underlying grass from sun and will kill off any growth without the use of chemicals or needing to strip the sod. This takes a few months and works fastest in summer with the most direct sunlight and heat. Read more on this method.
Removing grass manually: We rented a sod cutter and removed all of our sod in our 700 SF garden in a few hours. These machines can be rented at a local hardware store, but they are HEAVY and need to be trailered/ you need a few strong people to move them. The unit we rented weighed about 350lb. They can be a bit difficult to use as they are VERY powerful units. Renting the unit for a few hours was approximately $150. The benefit is that your garden is ready to plant immediately. Home Depot has a number of great videos on how to use rental equipment such as sod cutters.
You don't need to till the soil. In fact, you're less susceptible to weed growth if you don't till. By digging only in the area where you want to plant, there is less soil disturbance and weeds should be primarily isolated to right around your plantings.
Plan Your Plant Placement
We had a list of plants, but didn't go buy any until we had measured out proper spacing and placement! It can be hard to be patient when all you want to do is plant, but it was worth waiting to ensure we didn't over buy.
Perennials grow year over year to their full mature size, and if you over plant to have a more dense garden at the beginning, you'll need to thin your plants out in a few years time. We planted our garden more sparsely to ensure plants had enough nutrients to reach their mature size. We researched the plant spacing needed for each species and made a note of this.
We mapped out garden plans with clusters of 3-5 of each type of plant together with taller plants toward the back and smaller plants along paths and toward the front. We have a major difference in soil drainage and sun at one end of our garden from the other, so some plants ended up in different areas based on those conditions.
We also incorporated two pathways into our garden, one that leads to our air conditioner and one that leads to our hose. We ended up planting smaller cover plants along the pathways and love how it ended up looking.
After settling on a sketched plan of our garden layout, we used marking paint (like spraypaint) to note where each plant would go. It gave us a chance to see the layout spatially before we got out a shovel.
Acquire Your Plants and Get in the Ground!
This is the easy part (on your brain) from here on out. Once we had confirmed our spatial layout and the plant purchase list, we acquired our plants and got them in the ground. Around the plantings, we mulched to discourage weed growth.
Shrubs, especially, need consistent watering at the beginning of their life. Native plants can be watered deeply, but not daily – less frequent watering encourages better root growth, which improves drainage quality in your garden. In a rainy spell, you won't need to water at all.
Incorporating a rain barrel in your native plant garden can be another way to reduce costs in watering and reduce water runoff in your yard. We direct our downspout into our native plant garden and use water from our rain barrel to water our plants. More about how to put in a rain barrel in this blog post.
From there on out, all you can do is water, weed (there's quite a bit of weeding!) and wait for your plants to reach maturity in a few years time. Our garden has filled out really well for its first year thanks to warm weather and lots of rain – we can't wait to see what it looks like in 2-3 more years!