We spent a wonderful six days exploring the Northwestern corner of Lower Michigan this July. This area of the Midwest offers stunning views, delicious food, beautiful natural scenery and an abundance of good wine and beer. It's also incredibly dog-friendly! I was so impressed by the Traverse City, Petoskey and Charlevoix communities and would love to plan a return trip in fall or winter.
Just a note, I refer to Traverse City broadly here – but the area we visited was roughly a 1.5-2 hour radius. Traverse City is just the largest community in the area. If a restaurant or accommodation is in another community other than Traverse City, I'll note that!
Tips for Visiting Traverse City Area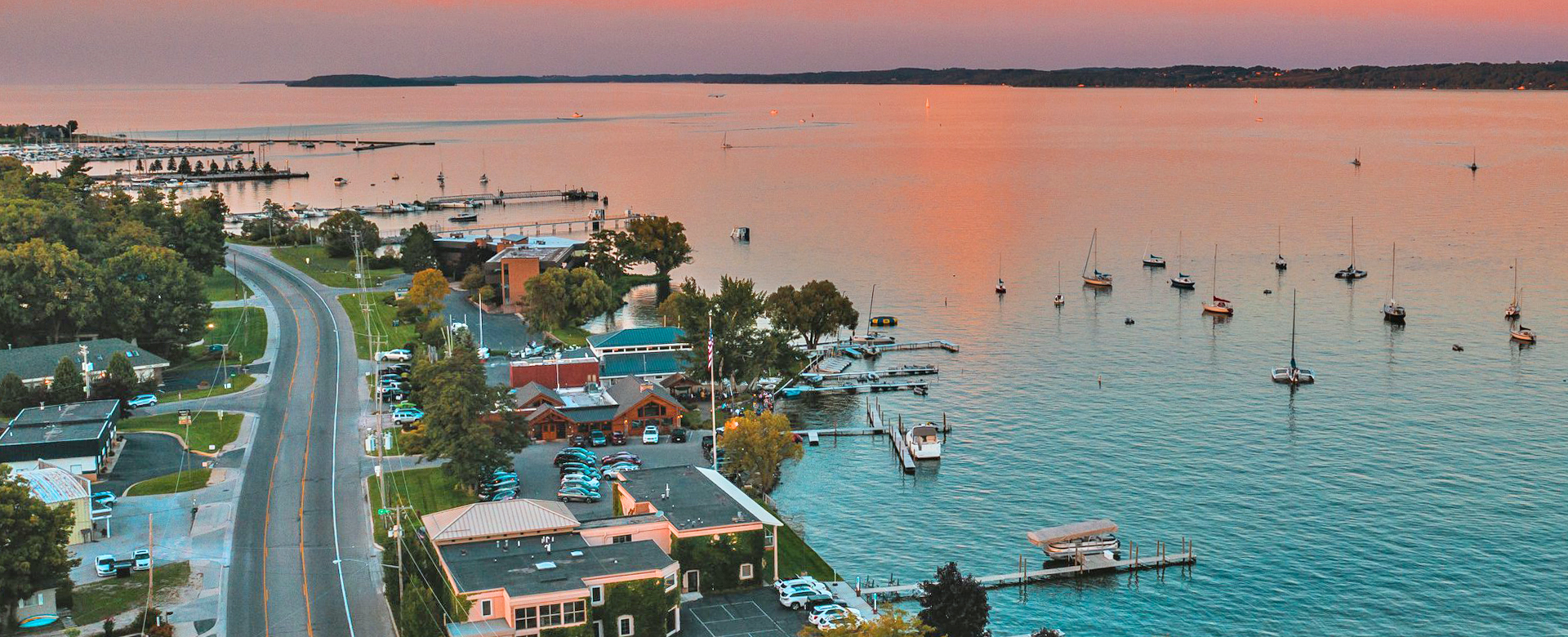 Where to Stay: There's something for everyone in this area – downtown, urban hotels with rooftop patios, cozy lakefront or wooded cottages, campgrounds for tents or campers and a large number of vacation rentals (both condo style and Airbnbs in people's homes). We wanted a central home base for our exploration of both Traverse City and Sleeping Bear Dunes, so we stayed in an Airbnb in Cedar. It was about 15-20 minutes from all of the attractions we wanted to visit and was so peaceful and quiet. The large yard was great for our dog, and we enjoyed the beautiful stargazing and firepit in the evenings. Check out the Airbnb listing where we stayed. We spent one night in Charlevoix, too (about 40 minutes away from Traverse City) and stayed in a delightfully quirky (but well-appointed) Airbnb owned by an artist. Check out the Airbnb listing in Charlevoix. Both of these stays were dog-friendly. Check out the Visit Traverse City website for more options on where to stay.
How to get there: From where we live (Green Bay, Wisconsin), this is about a 6 hour drive. It's incredibly scenic and there's virtually no traffic, so it was hardly stressful traveling there by car. It's also a better option for us to drive as we bring our dog with us. You can fly to Traverse City though, and I was surprised by the volume of inbound flights at Cherry Capital Airport. You will need a car to get around if you intend to see the outlying destinations in the Traverse City area.
Where to Eat in Traverse City Area
Traverse City has a wonderful food scene and really leans in to the farm-to-table movement. It always makes me happy seeing restaurants highlighting locally-sourced produce and meat! Some of our favorites we tried were:
Rare Bird Brewpub: Brewpub with microbrews, craft cocktails on tap and unique dishes. The bahn mi and whitefish dip were SO yummy.
Grand Traverse Pie Company Food truck: Cherries (and fruits of all sorts) are kind of a big deal in Michigan. You have to try a slice of pie (I prefer blueberry) OR a pie milkshake (just what it sounds like… a piece of pie blended with ice cream). Their foodtruck sets up outside of Right Brain Brewing.
Village Cheese Shanty in Leland: Leland is a quaint, remote, lakeshore community with a fishing industry. This cash only spot is somewhat iconic and features delectable fresh-made sandwiches on your choice of pretzel bread, pita or baguette. They'll also help you assemble a to-go picnic of cheese, wine, beer, etc.
Farm Club Brewery: This is a mash up of a brewery, a farmers market and a restaurant. They offer drinks, a limited menu that is veggie-forward and a market where you can purchase Michigan-made items, beer, wine, cheese and fresh baked bread.
The Filling Station: We had heard great things about the pizza at The Filling Station and I can confirm that it was worth the long wait the night we were there to get a table and enjoy a pizza. With their setup in an old train station, they have a fun railroad-inspired them with their beer names and some really delicious pizza combinations. They have a brew each month that is supporting a local charity (a cool concept that I love seeing).
Short's Brewing Co. in Bellaire: A bit removed from Traverse City and to the east of Torch Lake, this brewery has a good deal of Midwest clout. We'd intended to just swing through their giftshop to stock up on beers and seltzers to-go, but we ended up being in the vicinity at lunchtime AND they have a dog-friendly patio. Can't say enough good things about their beer, their food and their setup! I am regretting not buying more of their Mule Beer. At least I have the memories!
The Little Fleet: This food truck setup in downtown Traverse City off of Front Street is a neat concept I'd like to see recreated in more places. I'm unclear if the food trucks rotate of if they are all permanently housed there, but The Little Fleet features 7 food trucks, plus a bar with an outdoor, shaded seating area in the center of everything. It is dog-friendly and offers the opportunity to share a variety of different dining options between your party. Downtown Petoskey has a similar concept called The Backlot that we passed, but during the AM. Check out Petoskey's Backlot here.
Where to Drink in Traverse City
If you didn't notice from the multiple breweries listed above, we love craft beer and have planned multiple trips around brewery stops. The breweries noted above are those that are more of a brewpub (food sales onsite, too). Those below are more focused on the drinks. Michigan also is home to many wineries, especially on the Old Mission Peninsula.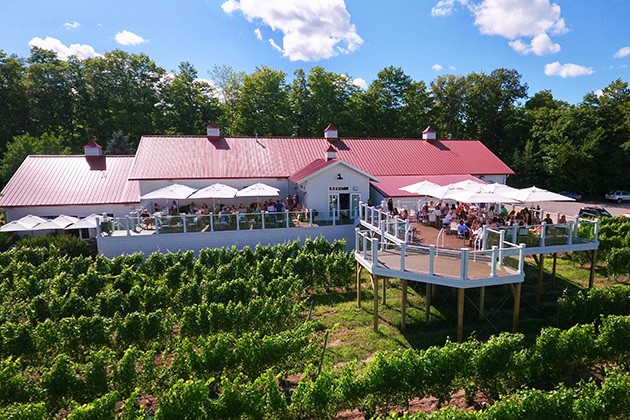 Other things to do in Traverse City
Hiking and Exploring Nature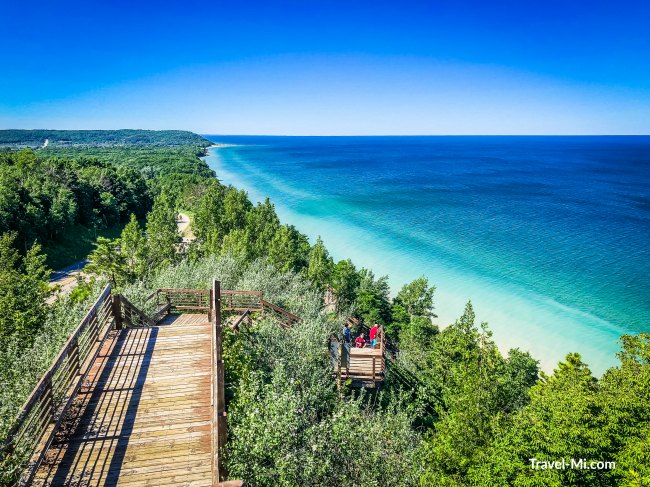 History, Scenery and Architecture
Find the Mushroom Houses in Charlevoix: Earl Young is the Charlevoix, Michigan-based architect who designed the 'hobbit' or Mushroom houses that are scattered around downtown Charlevoix. Some are Airbnbs where you can experience staying in them, but many others are private property.
Search for Petoskey stones on Lake Michigan: These stones that are highly localized on Lake Michigan beaches in Northern Michigan feature visible fossilized coral. You can legally rock hunt on Michigan beaches and remove up to 25lb of stones each year per party. You cannot remove stones from beaches within the National Lakeshore area.
Visit the Village at Grand Traverse Commons: The revitalized former state mental hospital in Traverse City is a tremendous example of historic preservation and adaptive reuse. The sprawling campus has been (and is still currently) being revitalized into apartments, assisted living, shops, offices, restaurants and more.
Take a Guided Tour of Traverse City State Hospital: I can't stress enough how highly worth the money this guided tour was. The 2+ hour tour takes you throughout much of the buildings and grounds of the Village at Grand Traverse Commons and not only speaks highly of the practices and people who spent time there, but how influential this development was in Michigan and Traverse City history from an employment and industrial perspective.
Visit Historic Fishtown in Leland: While this won't take up too much of your day, it's worth heading up to Leland for a few hours to explore the downtown area and walk around historic Fishtown. The fishing shanty village is a unique piece of history. The community is actively fundraising to continue to restore this piece of Leland's commercial fishing heritage.