We spent Labor Day weekend this summer in the college town (home of the Indiana University Hoosiers!) of Bloomington, Indiana. This small city was truly charming and offered plenty to do for a long weekend (or even longer). We mostly focused on visiting sites near campus and in downtown Bloomington, but I'd love to visit some of the parks and outdoor recreation areas in this part of Indiana on a return trip.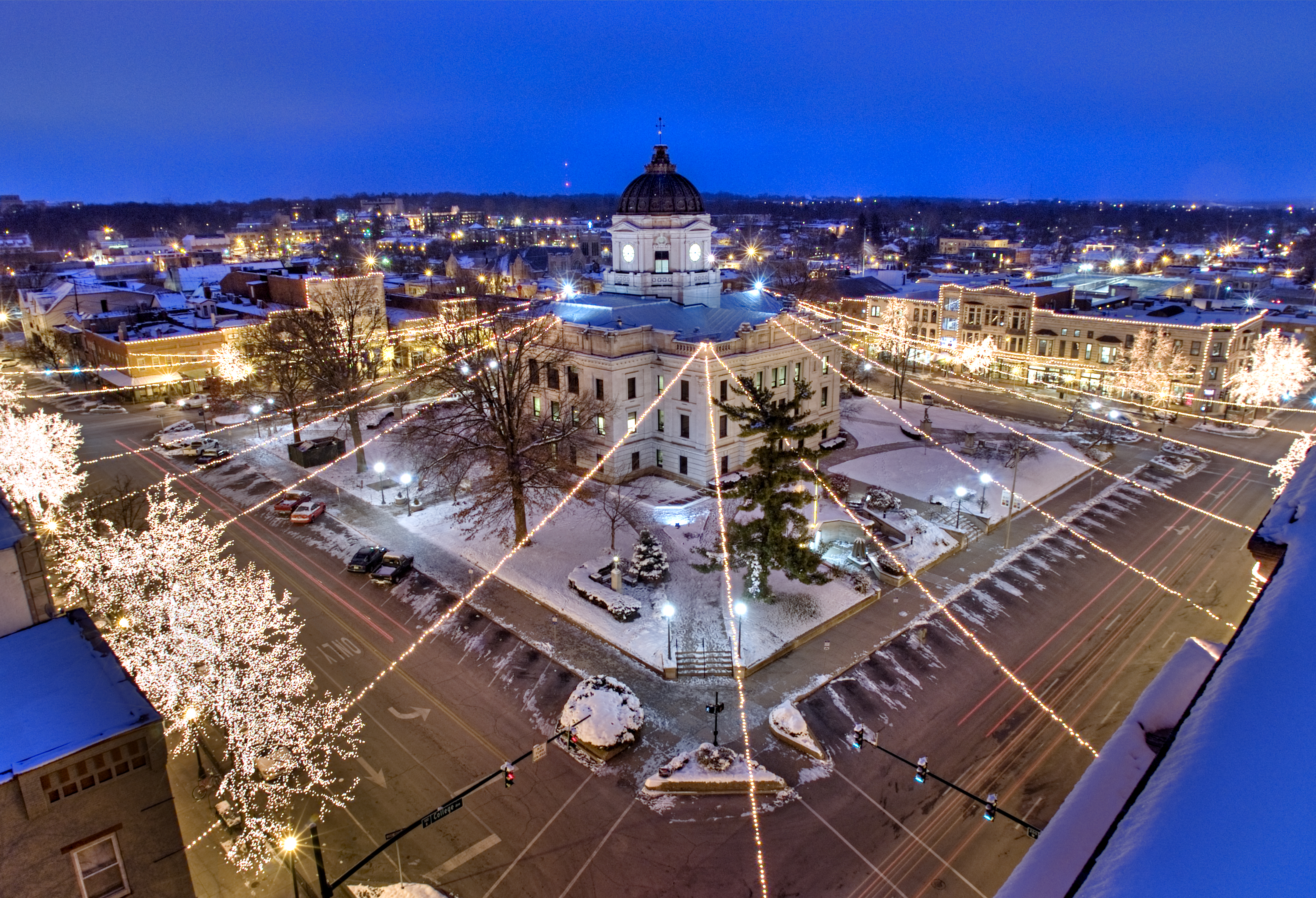 Tips for Visiting Bloomington
Where to Stay: We stayed in a dog-friendly Airbnb about 15 minutes outside of downtown, which ended up being sort of inconvenient as everything we did was in downtown Bloomington and we were constantly driving back and forth to let our dog out or pick her up, etc. If there on a return trip, I would definitely stay in the downtown area near campus and I'd personally stay at the Graduate Bloomington. We stayed in a Graduate Hotel this summer in Madison, Wisconsin and I loved these locally-themed hotels. Despite being a chain, they put a lot of effort into adding local flavor into their rooms and lounge areas with a fun mix of local and kitschy elements. The Bloomington location features rooms with a heavy basketball theme, but also has rooms that give a nod to the Indy 500. The rooftop bar offers college-themed activities like cornhole boards and the art throughout the property is inspired by faces and places in the State of Indiana (think the movies Hoosiers and Breaking Away, and of course, Indiana University). Make sure to check your room size as some of the rooms are SUPER efficiency size (like 300SF). I didn't think to do this and was surprised by quite how small our room was in Madison. Graduate Hotels are pet-friendly, too! Rooms start around $100/night, Graduate Hotel Bloomington.
How to Get There: From where we live in Green Bay, Bloomington is about 7 hours away by car. You don't really need a car if you're in the downtown area as it is a really walkable college town, but the closest airport to Bloomington is 40 miles away in Indianapolis.
Where to Eat and Drink in Bloomington
For a smallish city, Bloomington has a shockingly diverse food scene. Midwest Living Magazine named it one of the five Best Midwest Food Towns. There's a great mix of breweries, college type pub fare and ethnic dining options. I'm listing here some places we tried and enjoyed, as well as some that were on our list that we didn't get to visit on this trip.
Mother Bear's Pizza: Mother Bear's is a piece of Bloomington history – the pizzeria started in 1973 and was awarded the "best Pizza in Bloomington" award by the IU newspaper in 1979 and named one of the top nine pizzerias in the U.S. by People Magazine in 1982. I'm pretty particular on my pizza, but I was very impressed by the quality of this pizza – we went with a slightly spicier build your own pie with hot Italian sausage and banana peppers. It's (thankfully) cut into triangles, too!
Upland Brewing Company: Upland is the biggest of the breweries in town, and is one of the biggest breweries in the state with multiple taproom locations. Their beer menu and food menu were extensive and they had a large number of plant-based options or modifications (such as the ability to swap out seitan for chicken on their spicy chicken sandwiches).
Function Brewing: We stopped at Function just for drinks, but the food that others had looked amazing. They, like many Bloomington spots, offered a huge variety of vegetarian-friendly fare. My husband loved their emphasis on darker beers – they had three unique kinds of brown ale!
Switchyard Brewing Company: As to be expected, we visited all three of the downtown breweries in Bloomington. This taproom just head a great vibe and they host cool community events onsite such as trivia night, live music and even a parents and kids meetup on weekends (which I'm not a parent, but I'd definitely go to that if I was). They also offer a great variety of beer including some fruit forward blondes (lavender, orange blossom) and some darker beers, hard seltzer and ciders. We enjoyed their fresh-made bread sticks, as a snack with our drinks, too.
Korea Restaurant: Despite the no frills name (not nearly as trendy as the Hoosier Seoulmate spot), this is the highest rated Korean restaurant in Bloomington. You're probably thinking "how many can they possibly have?", and you'd be surprised to hear that there are six Korean restaurants in the city. Bloomington has a huge Asian food scene with many of the restaurants located close to campus on 4th Street. The aptly named "Fourth Street Restaurant Row" (or "International Row") features a huge variety of ethnic dining options, including many Asian options. We picked Korean as we'd never had it before and we weren't disappointed. We shared beef bulgogi, japchae (sweet potato noodles), and dumplings and everything was so flavorful and delicious. This spot doesn't have a website or a Facebook page, but you can find their menu online on Yelp or Trip Advisor.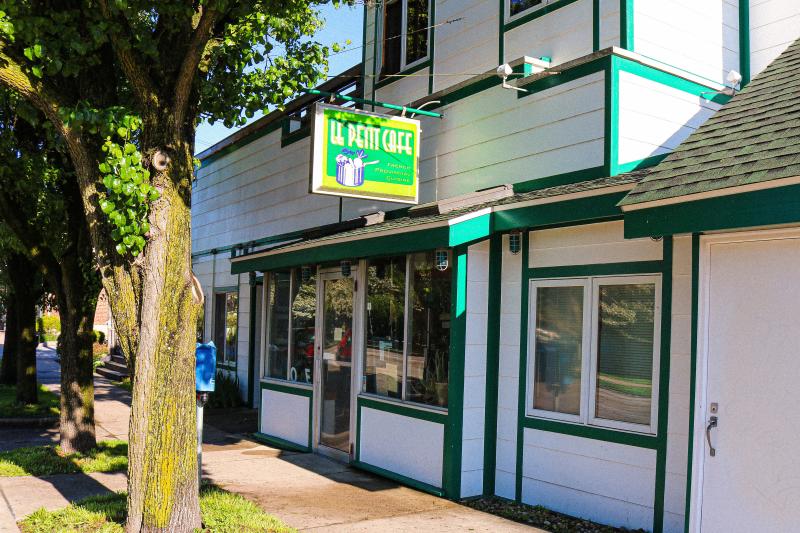 Le Petit Cafe: We discovered this spot on a walk along the B-Line and I was so bummed that it wasn't during a meal time as this was such an amazing local find. Le Petit Cafe is a teeny tiny French restaurant run by a husband and wife from France which has been open since 1977. They serve a super limited menu of lovingly prepared French country-style dishes. We were there during COVID-19 and all food was served to-go from their trailside window along the B-Line Trail. This restaurant only has a Facebook page that lets you know if they're open that day and what's on the menu.
SmokeWorks BBQ: We didn't get to try SmokeWorks as they were really short-staffed the weekend we were in town and they weren't taking any new tables when we stopped by. We were really disappointed as this restaurant specializes in food from nearby neighboring states – Memphis-style barbecue and Kentucky bourbon. Hopefully on a return trip we can check this spot out!
Cardinal Spirits: This was another spot that was on our short-list but didn't come to fruition as they had limited hours over the holiday weekend. Cardinal Spirits is an award-winning distillery that produces vodka, gin, rum liqueurs and their claim to fame: canned cocktails.
Things to Do in Bloomington:
As home of the Hoosiers and Indiana University, you simply can't visit Bloomington without a visit to campus. The campus is super walkable and features trails and walking paths open to the public (as well as being dog-friendly in certain areas). We had a lovely morning just walking around campus and exploring for about 90 minutes.
See the Sample Gates. The iconic entry to campus from Kirkwood Avenue offers a natural photo op and is beautifully landscaped in red and white.
Walk the trails in Dunn Meadow and Dunn's Woods. We brought our pup for a scenic walk around campus on the extensive wooded trails on campus. You're in the heart of downtown, but you'd never know it with the deep woods and babbling brook running through center of campus.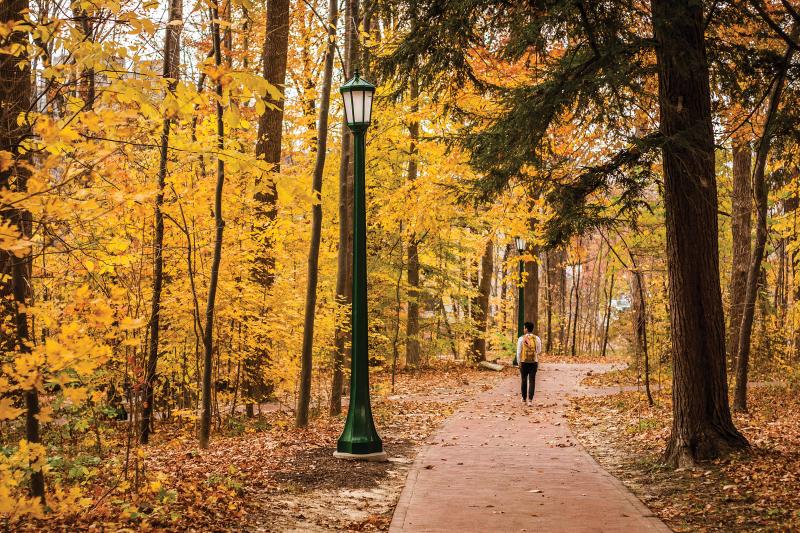 Walk around campus to see the Indiana Memorial Union, Beck Chapel and the stunning Showalter Fountain. The historic architecture on campus makes you feel like you're at an East Coast Ivy League university, three of my favorite buildings were the Memorial Union, Beck Chapel and the Showalter Fountain which looks like it should be in Central Park, not in suburban Indiana.
Off campus, there are still so many great things to do – especially in Bloomington's wonderful downtown.
Visit the Bloomington Community Farmers Market. Held on Saturday mornings right off the B-Line Trail, the market offers a huge variety of vendors featuring Indiana-made products.
Check out the B-Line Trail on foot or on bike. The 3.1 mile B-Line Trail connects downtown plazas and amenities like the farmers market to each other and connects to other rail trails.
Check out a Downtown Bloomington Event – like 4th Street Festival of the Arts and Crafts which was held on Labor Day Weekend when we were in town. After a year+ of events being canceled, it was such a wonderful experience to see a fine arts festival again.
We shopped for records at two downtown shops including Landlocked Music and Tracks on Kirkwood. Tracks is a college haunt (and has been since 1988) and doubles as the t-shirt destination for all things Hoosier. Landlocked is expertly curated and the owner is super friendly and well-aware of what he has in stock.
We usually visit a dog park or two when we are traveling and Bloomington was no exception. We really enjoyed Ferguson Dog Park on the edge of Bloomington. The 18 acre park had so much room for dogs to run and explore, which was welcomed before getting back on the road for 7 hours. Not all communities have dog parks open to the public, so it is greatly appreciated when we can find them in communities where we're traveling.
We didn't explore much outside of downtown, but Visit Bloomington is a wonderful resource, especially if you're interested in visiting the parks and wineries outside of the downtown. Happy traveling!