In the fifth edition of Game Day Eats, we're visiting Los Angeles, CA. While only the third game between the two since the team relocated from St. Louis to Los Angeles, the two franchises historically had a 47-47-3 record until yesterday (meaning 47 wins for Green Bay, 47 wins for Los Angeles/St. Louis/Los Angeles/Cleveland) and three tied games. With Green Bay's win, we've edged ahead one game in the record.
I emphasized some of the cities that are as food diverse as possible in the first football season of this feature and figured that LA would fit the bill. But when it came to finding 'classic' Los Angeles foods, most of what came up was high-end dining at specific LA restaurants and not a lot of signature Los Angeles dishes. In doing some research, I found one chef who had a compelling story and a unique perspective on food. I knew that one of his recipes had to be the LA feature.
Josef Centeno's origin traces back to San Antonio, TX, his culinary training at the Culinary Institute of America in Hyde Park, NY, and a number of restaurants in Los Angeles over the last nearly 20 years. The article I found highlighted his time at Lot 1 in 2008. Over the years, Josef Centeno has worked in and started his own fusion and high-end restaurants in Los Angeles. He has published two cookbooks, both featuring Los Angeles-inspired and Tex-Mex inspired cooking based on his culinary history and his family origin. Josef earned a Michelin Star in 2020 and was named a semi-finalist for Best Chef for a James Beard award.
Pesco Baco | Recipe by Josef Centeno (Los Angeles Times)
Get the recipe here. This recipe is a multicultural take on a California classic, the fish taco. The cooking time is deceptive because what sets this recipe apart is the layered flavors of the multiple sauces featured in the dish. Scratch-made flatbread in a Middle Eastern style (made with Greek yogurt, culinary lavender, and ginger) is pan-fried. The flatbread is spread with ancho pomegranate sauce, featuring charred poblano and bell pepper, garlic, cilantro, lemon zest, bread crumbs, and pomegranate molasses (Mexican-Middle Eastern fusion). Panko-breaded cod (I baked, but the recipe calls for frying) is topped with a salbitxada sauce (a Catalan Spanish sauce with tomato, garlic, parsley, and serrano pepper), avocado, and a garlicky creme fraiche.
Preparing all of the components (flatbread, pomegranate molasses, ancho pomegranate sauce, salbitxada sauce, creme fraiche, and baked fish) requires six separate recipes, approximately 40 unique ingredients and it took me about 5 hours of straight cooking. You can take some shortcuts by prepping items in advance, finding pomegranate molasses in a well-stocked grocery store, and buying your own flatbread.
Our final take on this meal was that this was, firstly, delicious, but what made it so interesting was (secondly) the fact that it reminded us of a hybrid of so many other dishes. The flatbread reminded us of a gyro, the creme fraiche of Mexican food, the salbitxada of a spicy bruschetta. While it was labor-intensive, the flavors were exceptional and this dish will be memorable for some time.
The recipe linked above details how to bake or fry the fish for this recipe. Get the recipes for pomegranate molasses, ancho-pomegranate sauce, garlic chive cream, salbitxada sauce, and Baco flatbread here.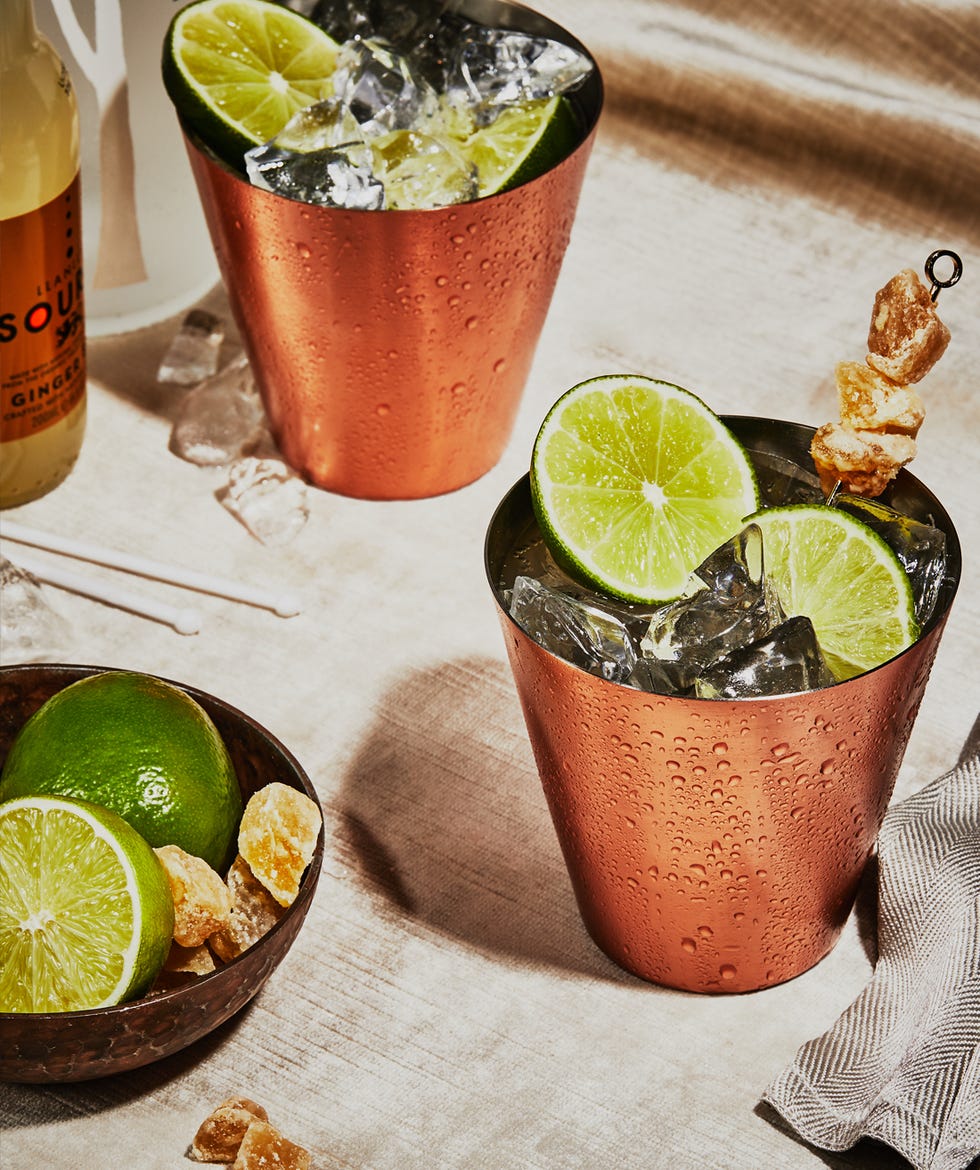 Moscow Mule | Recipe by Esquire
Get the recipe here. There's a bit of conflict, but also folklore behind the Moscow Mule. While some credit the drink as being invented in New York, others credit the invention as a marketing gimmick cooked up between John Martin, owner of Smirnoff, and Jack Morgan, owner of the Cock 'n Bull bar in Los Angeles in the 1940s. Mr. Martin was aiming to sell more vodka at a time when whiskey was highly popular, and Mr. Morgan hoped to sell ginger beer that was house-branded. The iconic drink would be served in a copper mug. There are a few theories behind that as well.
Some think that Mr. Morgan's girlfriend at that time was in the copper industry, so it was yet another effort to offload someone's product in this creative cocktail venture. Copper also has excellent thermal qualities for keeping drinks cool, and some say that it intensifies the carbonation of ginger beer. Whatever the reason, a marketing campaign for Smirnoff featured pictures of Hollywood celebrities drinking the Moscow Mule out of copper mugs and the public was influenced to try the new vodka cocktail.
The Hot Fudge Sundae | DIY Recipe!
No recipe needed here, craft your own sundae with your choice of ice cream and toppings! I laughed when I saw that the hot fudge sundae had its origin in Los Angeles, as there is a city in Wisconsin that also claims credit to the ice cream sundae (although not a hot fudge one specifically). C.C. Brown's Ice Cream Shoppe opened as a candy shop in the 1920s and would remain open as a celebrity favorite for ice cream until 1996. Owner Clarence Clifton Brown is credited with creating the concept of a hot fudge sauce atop an ice cream sundae in the 1930s. It was traditionally served in a fluted glass to allow the fudge sauce to run down the sides of the ice cream. The classic toppings include hot fudge sauce, whipped cream, a maraschino cherry, and chopped nuts. The name 'sundae' originates from Blue Laws at the time that prohibited the sale of soda water on Sundays. Soda shop counter and ice cream shops emphasized the sale of plain old ice cream on the day of restrictions.
While C.C. Brown's closed in the 1990s, their signature hot fudge sauce and the original ice cream sundae are still on the menu at Lawry's The Prime Rib.
In an ironic twist, the City of Two Rivers, Wisconsin, about 30 minutes south of Green Bay, also lays claim to the origin of the ice cream sundae. As the story goes, in 1881, a patron at a soda shop requested chocolate sauce on his scoop of ice cream, which had traditionally only been used as a mix-in for ice cream sodas. The concoction was only sold on Sundays, hence the name.
Wherever the sundae first originated, it does seem that hot fudge was a distinct Los Angeles addition. It's my favorite ice cream topping, so I won't argue who created it first!